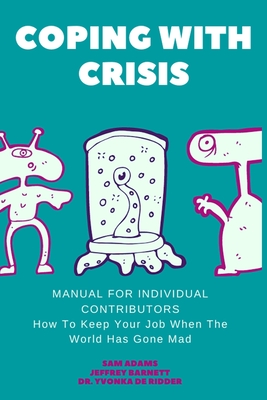 Coping with Crisis - Manual for Individual Contributors: How to Sustain Productivity, Morale, and Culture In a Disrupted Workplace
Paperback
Series: Coping with Crisis, Book 2
ISBN13:
9798592107436
Publisher:
Independently Published
Published:
Jan 14 2021
Pages:
96
Weight:
0.42
Height:
0.25
Width:
6.00
Depth:
9.00
Language:
English
Let's face it.

Dealing with business crises is challenging even at the best of times. Even strong, legendary organizations who invest in their contributors are struggling with meeting new and unique challenges facing their valued contributors.

Take comfort and knowing you aren't alone in this situation. We are in this together. If we do it together, we cannot fail. It is only when we think we need no one else that we invite failure. That's just example of a mindset we're surfacing and showing you how to change.

1Focus is committed to helping organizations, leaders and contributors find their way through the turmoil. We have decades of experience in leading organizations through major disruptions and changes, and we're using that knowledge to guide companies through this new territory.

We compiled the best of our models, methods and experience into our Coping with Crisis Series. This manual, for Contributors, is filled with lessons for contributors - those entrusted with delivering unique value, every day . It includes practical, academic and psycho-education resources that have been proven to work, over and over again. We've combined tools and techniques from executive therapists, seasoned executives and all sorts of coaches into this best of breed manual.

Give your organization and its contributors what they need to succeed during these challenging and taxing times.