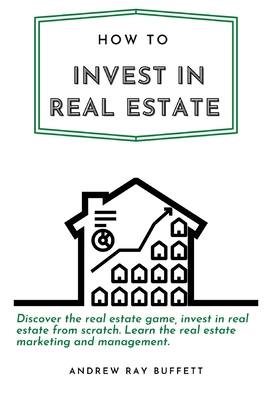 How to invest in Real Estate: Discover the real estate game, invest in real estate from scratch. Learn the real estate marketing and management.
Paperback
ISBN13:
9798685954381
Publisher:
Independently Published
Published:
Sep 13 2020
Pages:
166
Weight:
0.51
Height:
0.35
Width:
6.00
Depth:
9.00
Language:
English
Investing in real estate is one of the easiest ways to generate a reliable passive income in the long-term. Despite this well-known fact, there are millions of people out there with the credit and the skills to profit from the real estate market just sitting on their hands as they feel they don't have perhaps the most important thing of all in order to get started. Finding the capital to make their first real estate investment is the number one reason that most people don't fulfill their real estate potential. While not without its difficulties, finding complete funding for a project is far from insurmountable and How to invest in real estate, can teach you everything you need to know in order to turn your real estate dreams into reality.Inside you will learn everything you need to know in order to rig the system to ensure that you can profit from a successful real estate investment, despite the fact that you didn't actually put so much as one penny down to cover any of the costs. While this might sound far-fetched, the truth of the matter is that professional real estate investors do it every day through a process of maximizing their borrowing position, presenting the best deals to lends and knowing where money is.What's more, you will also find everything you need to know in order to get started in not just one but with three different distinct real estate investing plans, each of which is designed to ensure you turn a profit without opening your own purse strings even a fraction of an inch. So, what are you waiting for? Say goodbye to your boring old 9-to-5 job and start planning for your independently wealthy future, buy this book today!Inside you will find: ●Easy ways to use the laws to your advantage and ensure your credit report is as squeaky clean as possible.●How a direct mailing campaign can lead to a wealth of viable real estate investments that are 100 percent free of competition or real estate agent interference.●The multitude of ways you can use foreclosed properties to turn a profit.●Each and every type of potential private lender and how to best get on their good sides.●A surefire way to get the money for your deal within 24-hours, assuming you have a deal that is worth the excitement.●The secret to making money on real estate investments despite owning a property for less than two weeks and making no renovations.●Easy ways to make yourself as attractive to hard money lenders as possible.●Top options when it comes to crowdfunding your next real estate investment.●And more...