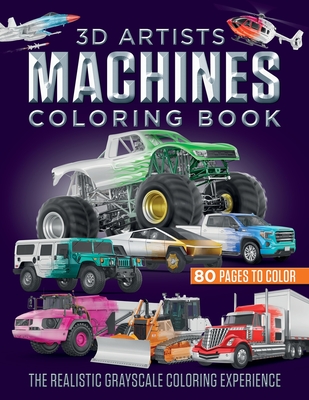 3D Artists Machines Coloring Book: The Realistic Grayscale Coloring Experience
Paperback
Series: 3D Artists Coloring Book
ISBN13:
9798522311896
Publisher:
Independently Published
Published:
Jun 18 2021
Pages:
166
Weight:
0.88
Height:
0.35
Width:
8.50
Depth:
11.00
Language:
English
The 3D Artists Coloring book series is 3 books of 3D rendered Supercars, Muscle Cars, Sportscars, SUVs, Trucks, Motorbikes, Jet Planes and Heavy Vehicles. Each book is 80 single sided pages of awesome grayscale renders and contains fantastically detailed images to colour in.
For Adults and Kids who love all sorts of machines this book makes it easy to colour in realistic detail every time. Features handy hints and tips to improve your colouring skills and the worlds best grayscale images to colour over.
Unlike any other colouring book on the market the beautifully rendered illustrations capture every detail of the vehicles and feature no dark heavy lines or bad photoshop filters so your colouring in will be next level fantastic!

3D Artists MACHINES colouring book includes amazing renders of:
- Earth Moving Vehicles
- Bulldozers
- Sports Utility Vehicles and Vans
- Helicopters
- Jet Fighter
- Heavy Machinery
- Quad Bikes
- Moto Cross Bikes
- Jeep
- Monster Truck
- Freight liner Trucks
- Cyber Truck
- Land Rover
- Hummer
- Box Trucks
- GMC Trucks
- Dreamliner Aeroplane
- Dodge Truck
- Rolls Royce
- Hovercraft
- RAM Trucks
- Raptor SUV
- Aeroplanes
- Mercedes G Class
- Go Kart
- A Tank!

COLLECT ALL 3 BOOKS IN THIS SERIES!

3D Artists SUPERCAR colouring book includes renders of: Ford, Bugatti, Ferrari, Lamborghini, McLaren, Porsche, Aston Martin, Nissan, Bentley, Delorian, Mercedes Benz, BMW, and Maserati models.

3D Artists MUSCLE CARS colouring book includes renders of: - Aston Martin Superleggera, BMW M3, Chevrolet Camaro, Chevrolet Corvette C7.R, Dodge Charger, Ferrari 458, Ferrari 488, Ford GTII, Ford Model T Hot Rod, Ford Mustang, Honda NSX, Lamborghini Gallardo, Lamborghini Murcielago, Mercedes Benz AMG GT, Nissan GTR R34,
Nissan GTR R35 Godzilla, Nissan Silvia S15 Spec-R, Pontiac GTO, Porsche 911, Rat Rod, Toyota Nascar.

Great for all skill levels and Super easy to colour in!