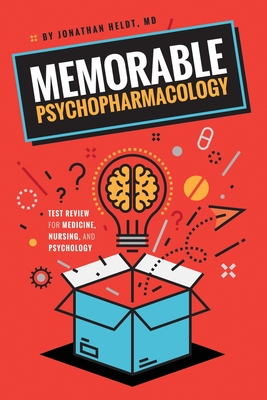 Memorable Psychopharmacology
Paperback
ISBN10:
1535280344
ISBN13:
9781535280341
Publisher:
Createspace
Published:
Jan 2 2017
Pages:
246
Weight:
0.74
Height:
0.52
Width:
6.00
Depth:
9.00
Language:
English
NOTICE: There is a newer edition available! This listing is for the first edition of this book. To purchase the most up-to-date version of each book, please use the links below:
Memorable Psychopharmacology: memorablepsych.com/psychopharmacology
Memorable Psychiatry: memorablepsych.com/psychiatry
Memorable Neurology: memorablepsych.com/neurology
An indispensable review for anyone wanting to meet the mental health needs of their patients! Memorable Psychopharmacology uses a conversational tone, catchy mnemonics, visual aids, and practice questions to ensure that you not only learn about psychoactive substances but retain this information far into the future! Written for healthcare providers at all levels, including medical students, physicians, nurses, pharmacists, psychologists, physician assistants, social workers, and more. Now UPDATED with extra content, including a brand new chapter on drug-drug interactions!
1 different editions
Also available
Also in
Medical Reference