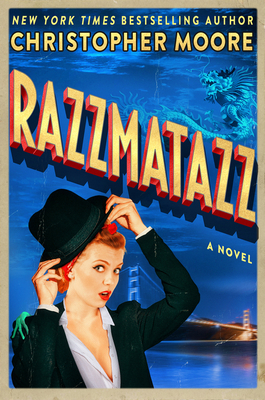 ISBN10:
0062434128
ISBN13:
9780062434128
Publisher:
William Morrow
Published:
May 17 2022
Pages:
400
Weight:
1.19
Height:
1.60
Width:
6.10
Depth:
9.10
Language:
English
New York Times Bestseller!
Repeat New York Times bestselling author Christopher Moore returns to the mean streets of San Francisco in this outrageous follow-up to his madcap novel Noir.
San Francisco, 1947. Bartender Sammy Two Toes Tiffin and the rest of the Cookie's Coffee Irregulars--a ragtag bunch of working mugs last seen in Noir--are on the hustle: they're trying to open a driving school; shanghai an abusive Swedish stevedore; get Mable, the local madam, and her girls to a Christmas party at the State Hospital without alerting the overzealous head of the S.F.P.D. vice squad; all while Sammy's girlfriend, Stilton (a.k.a. the Cheese), and her Wendy the Welder gal pals are using their wartime shipbuilding skills on a secret project that might be attracting the attention of some government Men in Black. And, oh yeah, someone is murdering the city's drag kings and club owner Jimmy Vasco is sure she's next on the list and wants Sammy to find the killer.
2 different editions
Also available