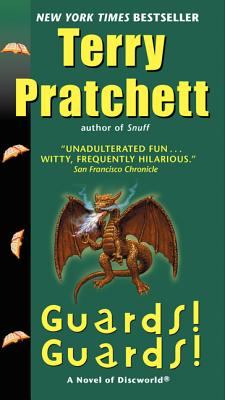 Guards! Guards!
Paperback
Series: Discworld, Book 8
Publisher Price: $9.99
ISBN10:
0062225758
ISBN13:
9780062225757
Publisher:
Harper Torch
Published:
Apr 30 2013
Pages:
416
Weight:
0.50
Height:
1.00
Width:
4.35
Depth:
7.38
Language:
English
The three person night watch of Ankh-Morpork's method to solving crimes is entirely unique and mostly inaffective, but who can blame them? With the creation of the assasins and thieves guilds most crimes are legal anyway. That is until a human sized dwarf named Carrot joins them and it becomes hard to ignore that fact that a dragon may be magically apearing and killing people. A humourous addition to Pratchett's Discword series, this book is where I began and one of my favorites. --Meghan
Welcome to Guards! Guards!, the eighth book in Terry Pratchett's legendary Discworld series.
Long believed extinct, a superb specimen of draco nobilis (noble dragon for those who don't understand italics) has appeared in Discworld's greatest city. Not only does this unwelcome visitor have a nasty habit of charbroiling everything in its path, in rather short order it is crowned King (it is a noble dragon, after all...). How did it get there? How is the Unique and Supreme Lodge of the Elucidated Brethren of the Ebon Night involved? Can the Ankh-Morpork City Watch restore order - and the Patrician of Ankh-Morpork to power?