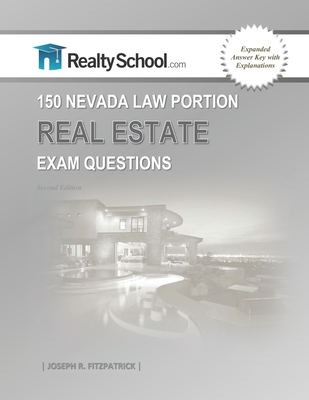 150 Nevada Law Real Estate Exam Questions
Paperback
ISBN13:
9798520977179
Publisher:
Independently Published
Published:
Jun 15 2021
Pages:
68
Weight:
0.40
Height:
0.14
Width:
8.50
Depth:
11.02
Language:
English
Thank you for selecting the RealtySchool.com publication, 150 Nevada State Law Real Estate Exam Questions. This textbook contains 150 multiple-choice, practice real estate exam questions to help you PASS the Pearson Vue Nevada state-portion real estate exam.

All 50 states have their own real estate licensing authorities. As such, each state has determined its own educational requirements and what content is to be tested of new licensing applicants. Each state produces some form of content outline that specifies the number or percentage of questions that will appear on the state exam per content category. The exam topics are usually available on the state's commission or division website.

The state exams consist of test questions that fall within two broad categories. The general portion (or national portion) will contain questions based on general real estate principles and practices that are applicable to the real estate practitioner regardless of his or her home state. The state portion consists of issues and laws that are specific to that one state, although many states have similar laws and regulations.

The various states employ professional testing companies to administer their exams, such as Pearson Vue. These testing companies produce a candidate bulletin for each state they service that goes into great detail of registration, center locations, how the computer works, the number of test items, passing scores, and perhaps most important, the exam content outline.

These testing companies hire any number of test item writers and maintain a bank of several hundred or even several thousand test questions. Many states will randomly select questions from the bank in order to produce an individual exam thus preventing future test takers from knowing all the answers.


Also in
General Education