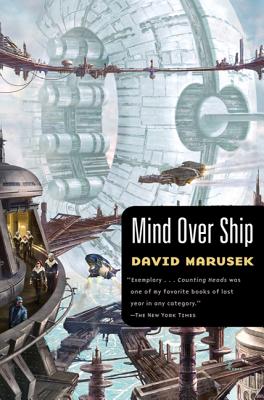 Mind Over Ship
Paperback
Series: Counting Heads, Book 2
Publisher Price: $23.99
ISBN10:
0765317559
ISBN13:
9780765317551
Publisher:
St Martins Pr 3Pl
Published:
Mar 16 2010
Pages:
320
Weight:
0.77
Height:
0.85
Width:
6.12
Depth:
9.26
Language:
English
David Marusek is one of the best-kept secrets of science fiction, a wild talent with a Gibson-grade imagination and marvelous prose, and a keen sense of human drama that makes it all go
--Cory Doctorow, author of Little Brother
The year is 2135, and the international program to seed the galaxy with human colonies has stalled as greedy, immoral powerbrokers park their starships in Earth's orbit and begin to convert them into space condos. Ellen Starke's head, rescued from the fiery crash that killed her mother, struggles to regrow a new body in time to restore her dead mother's financial empire. And Pre-Singularity AIs conspire to join the human race just as human clones, such as Mary Skarland and her sisters, want nothing more than to leave it. Welcome to
Mind Over Ship
, the sequel to Marusek's stunning debut novel,
Counting Heads
, which
Publishers Weekly
called ferociously smart, simultaneously horrific and funny.