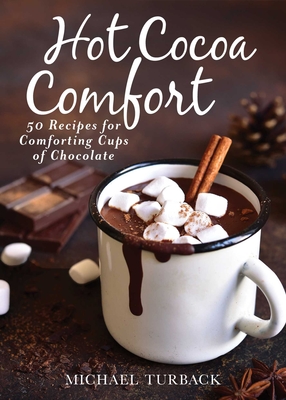 Hot Cocoa Comfort: 50 Recipes for Comforting Cups of Chocolate
Hardcover
ISBN10:
1510739963
ISBN13:
9781510739963
Publisher:
Skyhorse Pub
Published:
Oct 16 2018
Pages:
144
Weight:
0.80
Height:
0.80
Width:
5.30
Depth:
7.10
Language:
English
Make cocoa an everyday, year-round treat with these body- and soul-warming new takes! The everyday comfort of true hot cocoa is grounded in memories of grandma's kitchen, where slow food was a practice, not a movement. And now, rediscovery is in the air--what once was old is new again, with high-end chocolate producers creating pure cocoa powders, and these quality ingredients now compete with coffee in progressive coffeehouses and cafés. Convivial and resourceful, Cocoa Comfort invites the reader to reconsider the gentle but deep, complex flavor and amazing versatility of made-from-scratch cocoa as a simple pleasure during any moment in daily life, as well as for life's special occasions. The book recalls cocoa's ancient origins, offers instructions on tools and techniques for preparation, then stretches palate perspectives with fifty home kitchen-friendly drinks and paired small plates. These delightfully nuanced recipes include:
Malted Hot Cocoa with Toasted Marshmallows
Corn Flakes Cereal Milk Hot Cocoa
After-School S'mores Hot Cocoa
Peanut Butter Hot Cocoa
Good Morning Hot Cocoa Muffins
Cocoa Dunking Biscuits
Red Wine Hot Cocoa
Cocoa Popcorn
Mexican Hot Cocoa with Chili, Cinnamon, and Mezcal
Lavender Nightcap Hot Cocoa Consider Cocoa Comfort a re-introduction to an old favorite--with imaginative and original, yet accessible recipes that open the door to new possibilities.