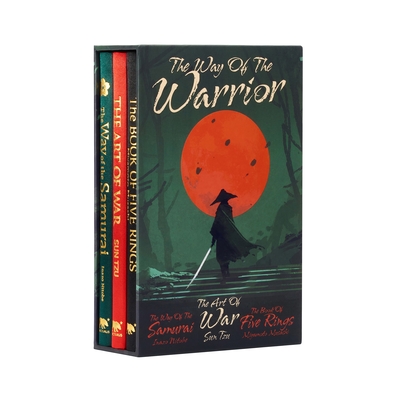 ISBN10:
1398801887
ISBN13:
9781398801882
Publisher:
Sirius Entertainment
Published:
Mar 1 2021
Weight:
4.63
Height:
2.70
Width:
6.40
Depth:
9.80
Language:
English
This deluxe boxset contains three classic texts from China and Japan - The Art of War, The Book of Five Rings and The Way of the Samurai - presented in beautiful silkbound volumes.
Together, these texts set out strategies and techniques for warfare and conflict that span more than 2500 years. Despite this military focus, their insights into have since been used as a source of insight into many areas of life, including leadership and corporate strategy. In
The Art of War
, Chinese general Sun Tzu sets out indispensable leadership skills, promoting strategic flexibility, quick thinking on the battlefield, and understanding the enemy's intentions.
The Book of Five Rings
was written by an ancient Samurai warrior and is hailed as a limitless source of insight into business strategy and outwitting the competition. In
The Way of the Samurai
, Inazo Nitobe explores the moral code of the Japanese warrior class, offering timeless wisdom on success and discipline which till resonates today. Featuring elegant cover designs with gold foil-stamping, these luxurious editions make a wonderful gift or collectible for anyone wishing to apply ancient wisdom to the modern world.
ABOUT THE SERIES:
The
Arcturus Collector's Classics
series are high-quality, clothbound box-sets of classic works of literature. With elegant embossed cover-designs and colored endpapers, these editions make wonderful gifts or collectibles to treasure forever.
Also in
Military Strategy