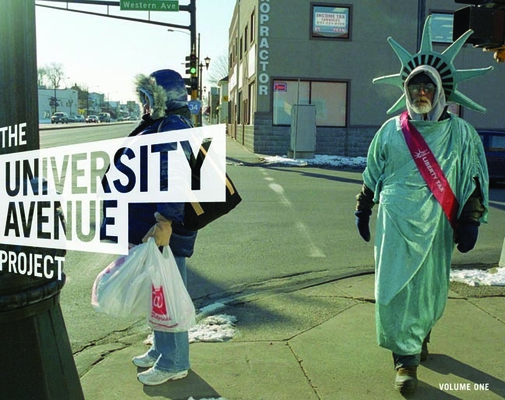 ISBN10:
0873517822
ISBN13:
9780873517829
Publisher:
Minnesota Historical Soc Pr
Published:
May 1 2010
Pages:
128
Weight:
0.86
Height:
0.35
Width:
9.92
Depth:
8.50
Language:
English
Acclaimed photographer Wing Young Huie explores the complex cultural and socioeconomic diversity of the St. Paul neighborhoods along University Avenue. This urban corridor connects a burgeoning condominium community, mom and pop stores, big-box retailers, schools, and family homes. At one public school alone, students have emigrated from sixty-six countries. These colliding cultures reflect the gamut of the evolving American experience, from old world to developing world to modern world.

The book, which springs from the public exhibition of the same name--a six-mile-long gallery running from May through November 2010 with 500 pictures exhibited on store windows and buildings and projected at night onto a large outdoor screen--explores the power of photography to destroy stereotypes and reveal cultural richness among the peoples of a city. The book and the exhibit, presented by Public Art Saint Paul, with major support from the Joyce Foundation, document the everyday lives of citizens connected by this singular street. In addition, Huie engages the subjects of his photographs with these questions:

--What are you? --What advice would you give a stranger? --How do you think others see you? --What don't others see? --How has race affected you?

The University Avenue Project not only collects Wing Young Huie's stunning photography but also provides the stories behind the photos in the residents' own words and a behind-the-scenes look at the complexities of staging this nationally significant exhibit. Volume 2 will document the reactions to and interactions with the exhibit and will be available in August. For more information, visit www.theuniversityavenueproject.com.
1 different editions
Also available
Also in
General Photography