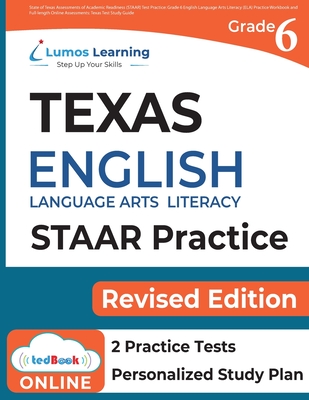 Texas State Test Prep: Grade 6 English Language Arts Literacy (ELA) Practice Workbook and Full-length Online Assessments
Paperback
ISBN10:
194985535X
ISBN13:
9781949855357
Publisher:
Lumos Learning
Published:
May 18 2021
Pages:
270
Weight:
1.39
Height:
0.57
Width:
8.50
Depth:
11.00
Language:
English
Why Lumos STAAR Test Prep Workbook?
Grade 6 ELA STAAR Assessment Test Prep Printed Workbook (updated for 2021-22), designed by expert educators to help students succeed on STAAR test.
The Lumos STAAR ELA test prep workbook for grade six offers rigorous standards-aligned practice resources. It helps identify grade-level & foundational skill gaps in ELA standards, which allows them to become proficient in critical ELA standards to improve STAAR scores. It also helps eliminate test anxiety & boost student confidence by providing online access to the realistic STAAR testing environment.
Also in
Teaching Instruction