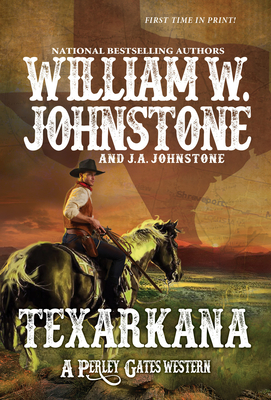 ISBN10:
0786049065
ISBN13:
9780786049066
Publisher:
Pinnacle Books
Published:
Nov 30 2021
Pages:
352
Weight:
0.45
Height:
1.00
Width:
4.70
Depth:
7.00
Language:
English
JOHNSTONE COUNTRY. RUSTLERS' PARADISE.

An unholy trio of cutthroat rustlers turn a routine horse drive into an epic showdown between good and evil--with a little divine justice from gunfighting legend Perley Gates...

At first, the job sounds easy: lead a small herd of horses across the Arkansas-Texas border to the Double-D ranch near Texarkana. No problem--at least not for a man like Perley Gates. In fact, he's looking forward to the 150-mile journey with his old sidekick Possum Smith and young Sonny Rice, and doesn't expect any trouble along the way. Unfortunately, trouble has a way of finding Perley Gates. This time, it's a trigger-happy trio of horse thieves who take one look at old Possum, young Sonny, and the low-key Perley, and decide they're three very easy targets. But in the Old West, nothing comes easy. Except death... So begins one hell of a showdown. On one side are the forces of evil itself, with notorious gunslinger Spade Devlin gunning for blood. On the other side are a few good men, a town under seige--and a merciless angel of vengeance named Perley Gates... Live Free. Read Hard.