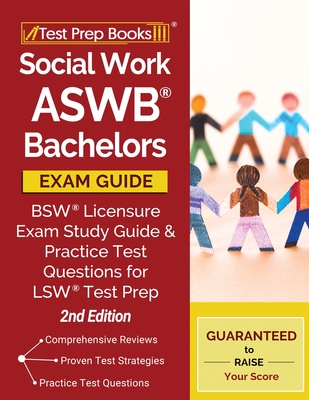 Social Work ASWB Bachelors Exam Guide: BSW Licensure Exam Study Guide and Practice Test Questions for LSW Test Prep [2nd Edition]
Paperback
Poverty & Social WorkTest Prep
ISBN10:
1628459336
ISBN13:
9781628459333
Publisher:
Test Prep Books
Published:
Apr 27 2020
Pages:
204
Weight:
1.07
Height:
0.43
Width:
8.50
Depth:
11.00
Language:
English
Test Prep Books' Social Work ASWB Bachelors Exam Guide: BSW Licensure Exam Study Guide and Practice Test Questions for LSW Test Prep [2nd Edition]

Made by Test Prep Books experts for test takers trying to achieve a great score on the ASWB Bachelors exam.
This comprehensive study guide includes:

Quick Overview Find out what's inside this guide!

Test-Taking Strategies Learn the best tips to help overcome your exam!

Introduction Get a thorough breakdown of what the test is and what's on it!

Environment Covers Human Development, Human Behavior in the Social Environment, Social/Economic Justice, and Oppression

Assessment Covers Biophysical History and Collateral Data, Assessment Methods and Techniques, and Concepts of Abuse and Neglect

Interventions with Clients/Client Systems Covers Intervention Processes and Techniques, and Documentation

Professional Relationships, Values, and Ethics Covers Professional Values/Ethical Issues, Confidentiality, and Professional Development

Practice Questions Practice makes perfect!

Detailed Answer Explanations Figure out where you went wrong and how to improve!
Also in
Poverty & Social Work