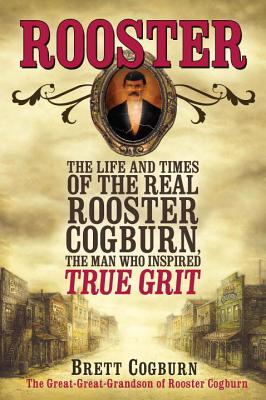 ISBN10:
0758274947
ISBN13:
9780758274946
Publisher:
Kensington Pub Corp
Published:
Sep 1 2012
Pages:
210
Weight:
0.45
Height:
0.60
Width:
5.40
Depth:
8.20
Language:
English
The True Story Behind True Grit

Immortalized in the classic novel and films, the real Rooster Cogburn was as bold, brash, and bigger-than-life as the American West itself. Now, in this page-turning account, Cogburn's great-great-grandson reveals the truth behind the fiction--and the man behind the myth. . .

He was born in 1866 in Fancy Hill, Arkansas, the descendant of pioneers and moonshiners. Six foot three, dark eyed, and a dead shot with a rifle, Franklin Rooster Cogburn was as hard as the rocky mountain ground his family settled. The only authority the Cogburn clan recognized was God and a gun. And though he never packed a badge, Rooster meted out his own brand of justice--taking on a posse of U.S. deputy marshals in a blazing showdown of gunfire and blood. Now a wanted man, with a $500 reward on his head, Rooster would ultimately have to defend himself before a hanging judge. Proud, stubborn, fearless, and ornery to the bitter end.

A fascinating portrait of a true American icon, Rooster shows us the making of a legend--fashioned by Arkansas newspaperman Charles Portis with bits and pieces of historical figures, including Deputy Reuben M. Fry, one-eyed Deputy Marshal Cal Whitson, Joseph Peppers (Lucky Ned), Joseph Spurling (Mattie Ross's grandfather) and bank robber Frank Chaney (scar-faced Tom Chaney.) Behind it all stood a man named Rooster, with two good eyes and a tale all his own.

Some folks are just born to tell tall tales. Brett Cogburn was reared in Texas and the mountains of Southeastern Oklahoma. He was fortunate enough for many years to make his living from the back of a horse, where on cold mornings cowboys still straddled frisky broncs and dragged calves to the branding fire on the end of a rope from their saddlehorns. Growing up around ranches, livestock auctions, and backwoods hunting camps filled Brett's head with stories, and he never forgot a one. In his own words: My grandfather taught me to ride a bucking horse, my mother gave me a love of reading, and my father taught me how to hunt my own meat and shoot straight. Cowboys are just as wild as they ever were, and I've been damn lucky to have known more than a few. The West is still teaching him how to write. His first novel, Panhandle, will be published in November 2012. Brett Cogburn lives in Oklahoma with his family.
Also in
Historical Figures