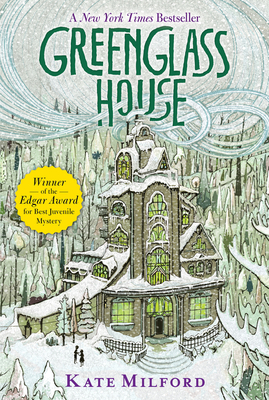 ISBN10:
054454028X
ISBN13:
9780544540286
Publisher:
Houghton Mifflin
Published:
Nov 1 2016
Pages:
400
Weight:
0.66
Height:
1.10
Width:
5.10
Depth:
7.40
Language:
English
One of my favorite books from one of my favorite authors. Greenglass house is a fantasy-mystery about a boy who lives in a stained glass housethat functions as an inn for smugglers, theives and the like, located high on a snow peak in a secretive city. Milo is used to the odd travelers that come and go from his parents inn, but when a winter mystery flurries into the house bringing villainy and ghosts with it, will he be able to figure it out? This book is smart, emotional, and adventurous, and set in a lore-heavy universe that is totally accessible if you haven't read any of Kate Milford's other books. Just a fun mystery in the style of Agatha Christie with light fantasy elements.--Jack
----------
New York Times Bestseller * National Book Award Nominee * Winner of the Edgar Award for Best Juvenile Mystery
It's wintertime at Greenglass House. The creaky smuggler's inn is always quiet during this season, and twelve-year-old Milo, the innkeepers' adopted son, plans to spend his holidays relaxing.
1 different editions
Also available
Also in
General Juvenile Fiction