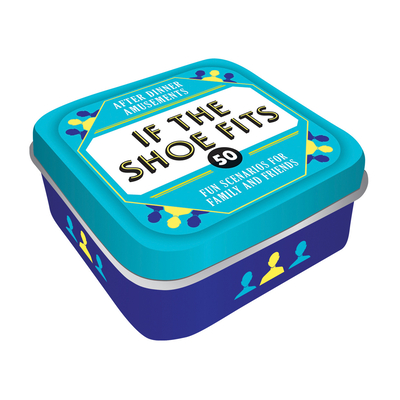 ISBN10:
1797219693
ISBN13:
9781797219691
Publisher:
Chronicle Books
Published:
Sep 6 2022
Pages:
51
Weight:
0.15
Height:
1.10
Width:
2.40
Depth:
2.60
Language:
English
How well do your friends and family know each other? Find out with this portable tin of 50 hypothetical scenarios!
Take turns pulling a card and reading each one out loud. Vote for which of you would be the most likely to find themselves in the fun, wacky, or maybe even slightly embarrassing scenarios. If a player gets the most votes, then the shoe fits and that player keeps the card. Who would enter a hot dog eating contest? Who would throw away their phone and go off the grid? Who would start an Instagram for their cat? Who would cry watching a Super Bowl commercial? Who would try to contact aliens? No matter what scenarios they end up with, the person with the most cards at the end of the game wins!
ENTERTAINING FOR THE WHOLE FAMILY:
This cute, compact tin is filled with 50 scenarios sure to get friends and family of all ages laughing and reminiscing together.
GREAT GIFT OR STOCKING STUFFER:
Perfect for families in need of game-night inspiration, dinner-party hosts and partygoers, or campers looking for a fun conversation game by the fire.
TAKE IT ANYWHERE:
The petite, portable tins are the perfect size to throw in your backpack or luggage for a vacation.
EXPLORE THE ENTIRE SERIES
: This game is part of the After Dinner Amusements series, a collection of tiny tins filled with prompts for lively conversation, trivia, icebreakers, and endless laughs. Perfect for:
Party hosts and party goers
Families looking for fun offline activities
Also in
Gifts & Stationery General