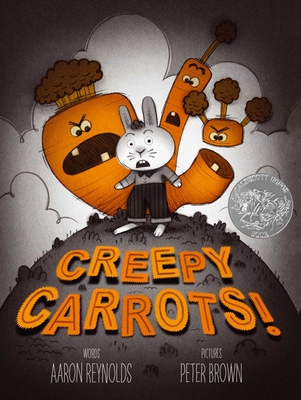 ISBN10:
1442402970
ISBN13:
9781442402973
Publisher:
Simon & Schuster Books You
Published:
Aug 21 2012
Pages:
40
Weight:
1.10
Height:
0.40
Width:
9.40
Depth:
12.10
Language:
English
Awards:
Black-Eyed Susan Award, Buckaroo Book Award, Buckeye Children's Book Award, Caldecott Medal, California Young Reader Medal, Colorado Children's Book Award, Cybils, E.B. White Read Aloud Award, Golden Archer Award, Golden Sower Award, Grand Canyon Reader Award, Ladybug Picture Book Award, Monarch Award, NAPPA Gold Awards, North Carolina Children's Book Award, Pennsylvania Young Reader's Choice Award, Show Me Readers Award, Texas 2x2 Reading List, Volunteer State Book Awards, Washington Children's Choice Picture Book Award, Young Hoosier Book Award
In this Caldecott Honor-winning picture book, The Twilight Zone comes to the carrot patch as a rabbit fears his favorite treats are out to get him. Jasper Rabbit loves carrots--especially Crackenhopper Field carrots.
He eats them on the way to school.
He eats them going to Little League.