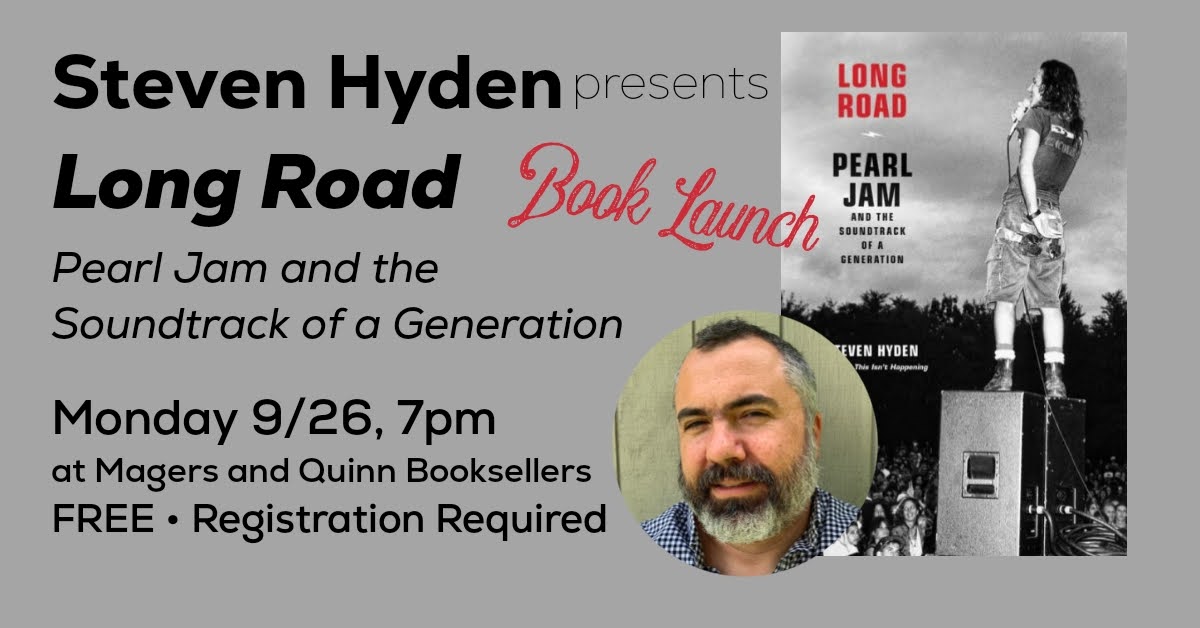 Steven Hyden launches Long Road
Monday, September 26, 7:00 PM
In-Store Event - Registration Required
Register Now
A leading music journalist's riveting chronicle of how beloved band Pearl Jam shaped the times, and how their legacy and longevity have transcended generations.
Ever since Pearl Jam first blasted onto the Seattle grunge scene three decades ago with their debut album, Ten, they have sold 85M+ albums, performed for hundreds of thousands of fans around the world, and have even been inducted into the Rock and Roll Hall of Fame. In Long Road: Pearl Jam and the Soundtrack Of A Generation, music critic and journalist Steven Hyden celebrates the life, career, and music of this legendary group, widely considered to be one of the greatest American rock bands of all time. Long Road is structured like a mix tape, using 18 different Pearl Jam classics as starting points for telling a mix of personal and universal stories. Each chapter tells the tale of this great band — how they got to where they are, what drove them to greatness, and why it matters now.
Much like the generation it emerged from, Pearl Jam is a mass of contradictions. They were an enormously successful mainstream rock band who felt deeply uncomfortable with the pursuit of capitalistic spoils. They were progressive activists who spoke in favor of abortion rights and against the Ticketmaster monopoly, and yet they epitomized the sound of traditional, male-dominated rock 'n' roll. They were looked at as spokesmen for their generation, even though they ultimately projected profound confusion and alienation. They triumphed, and failed, in equal doses — the quintessential Gen-X tale.
Impressive as their stats, accolades, and longevity may be, Hyden also argues that Pearl Jam's most definitive accomplishment lies in the impact their music had on Generation X as a whole. Pearl Jam's music helped an entire generation of listeners connect with the glory of bygone rock mythology, and made it relevant during a period in which tremendous American economic prosperity belied a darkness at the heart of American youth. More than just a chronicle of the band's career, this book is also a story about Gen- X itself, who like Pearl Jam came from angsty, outspoken roots and then evolved into an establishment institution, without ever fully shaking off their uncertain, outsider past. For so many Gen-Xers growing up at the time, Pearl Jam's music was a beacon that offered both solace and guidance. They taught an entire generation how to grow up without losing the purest and most essential parts of themselves.
Written with his celebrated blend of personal memoir, criticism, and journalism, Hyden explores Pearl Jam's path from Ten to now. It's a chance for new fans and old fans alike to geek out over Pearl Jam minutia—the B-sides, the beloved deep cuts, the concert bootlegs—and explore the multitude of reasons why Pearl Jam's music resonated with so many people. As Hyden explains, "Most songs pass through our lives and are swiftly forgotten. But Pearl Jam is forever."
Steven Hyden is the author of This Isn't Happening, Twilight of the Gods, Your Favorite Band Is Killing Me, and (with Steve Gorman) Hard to Handle. His writing has appeared in the New York Times Magazine, Washington Post, Billboard, Pitchfork, Rolling Stone, Grantland, The A.V. Club, Slate, and Salon. He is currently the cultural critic at UPROXX. He lives in Minneapolis, Minnesota with his wife and two children.
A note about in person events:
We are very excited to bring authors and readers back together in our space, and we know you are too!
As we all navigate the transition back to congregating in person, we ask that you use honesty, care, and understanding in interacting with fellow event-goers, staff, and authors.
Please note that Magers & Quinn will always comply with current city and state regulations, and reserves the right to change the below policies at any time. These are guidelines only, and if you have questions about the most up to date information, you can always call us at 612-822-4611.
For information about how our in-person events work, please read on:
Q: Are masks required?
A: Masks are not required to browse in the store. However, we strongly encourage masking while seated in the event area and waiting in the signing line.
For the health and safety of others, we strongly encourage you to wear a mask or face covering, especially for longer visits to the store such as events.
Q: Are in store events free?
A: Yes, Magers & Quinn events are free and open to the public unless otherwise noted.
Q: Do I need to RSVP?
A: Yes, please. Each event will now include a registration link.
As we navigate this step back to in-person events, we will be limiting event capacity to ensure a safe and comfortable experience for all attendees and authors. By requiring pre-registration, we can easily communicate event updates and policies with those who plan to attend, and can contact attendees after the event with follow-up information.
We strongly suggest registering via the Eventbrite link provided on our website, but if you are unable to sign up online, please call or visit the bookstore and register with a bookseller.
We may or may not be able to accommodate unregistered walk-ins, and seating priority will always be given to registered customers. We appreciate your understanding of this process!