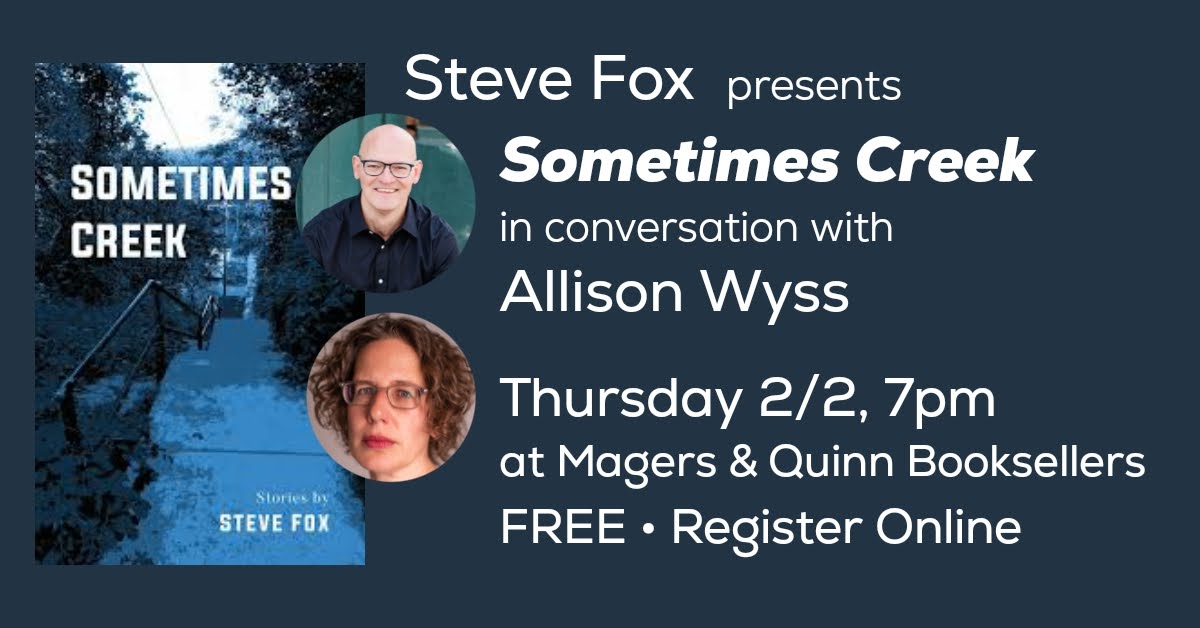 Steve Fox presents Sometimes Creek
Thursday, February 2, 7:00 PM
In-Store Event - Registration Required
Register Now
The seventeen unrelenting stories in Steve Fox's debut story collection, Sometimes Creek, traverse a sub-zero trail of plausible magic and grit from a kaleidoscope of broken ice at a hockey rink in Wisconsin that coils through haunted rivers and around dangling legs of jamón serrano in sweltering Spanish bars and back again to a place where Kafka and Carver meet up on the page. Fox's clean prose takes you by the hand and weaves a tapestry of tenderness, dissonance, indifference, dystopia, and charm into that gauzy space that collectively takes shape in your hands as Sometimes Creek.
Steve Fox is the winner of the Rick Bass Montana Prize for Fiction, The Great Midwest Writing Contest, the Jade Ring Award, and a Midwestern Gothic Summer Flash Contest. His fiction has appeared in New Ohio Review, Orca, a Literary Journal, Midwest Review, Midwestern Gothic, Wisconsin People & Ideas, Whitefish Review, and others. He holds a Master of Arts in Spanish from the University of Wisconsin-Madison, and has lived and worked in four continents. Steve now resides in his home state of Wisconsin with wife, Stephanie, three boys, and one dog.
Allison Wyss has a thing about body modification, dismemberment, and fairy tales. Her stories have appeared in Alaska Quarterly Review, Cincinnati Review, Water~Stone Review, Moon City Review, and elsewhere. Some of her ideas about the craft of fiction can be found in a column she writes for the Loft Literary Center, where she also teaches classes. Splendid Anatomies (Veliz Books, 2022) is her first book.
A note about in person events:
We are very excited to bring authors and readers back together in our space, and we know you are too!
As we all navigate the transition back to congregating in person, we ask that you use honesty, care, and understanding in interacting with fellow event-goers, staff, and authors.
Please note that Magers & Quinn will always comply with current city and state regulations, and reserves the right to change the below policies at any time. These are guidelines only, and if you have questions about the most up to date information, you can always call us at 612-822-4611.
For information about how our in-person events work, please read on:
Q: Are masks required?
A: Masks are not required to browse in the store. However, we strongly encourage masking while seated in the event area and waiting in the signing line.
For the health and safety of others, we strongly encourage you to wear a mask or face covering, especially for longer visits to the store such as events.
Q: Are in store events free?
A: Yes, Magers & Quinn events are free and open to the public unless otherwise noted.
Q: Do I need to RSVP?
A: Yes, please. Each event will now include a registration link.
As we navigate this step back to in-person events, we will be limiting event capacity to ensure a safe and comfortable experience for all attendees and authors. By requiring pre-registration, we can easily communicate event updates and policies with those who plan to attend, and can contact attendees after the event with follow-up information.
We strongly suggest registering via the Eventbrite link provided on our website, but if you are unable to sign up online, please call or visit the bookstore and register with a bookseller.
We may or may not be able to accommodate unregistered walk-ins, and seating priority will always be given to registered customers. We appreciate your understanding of this process!