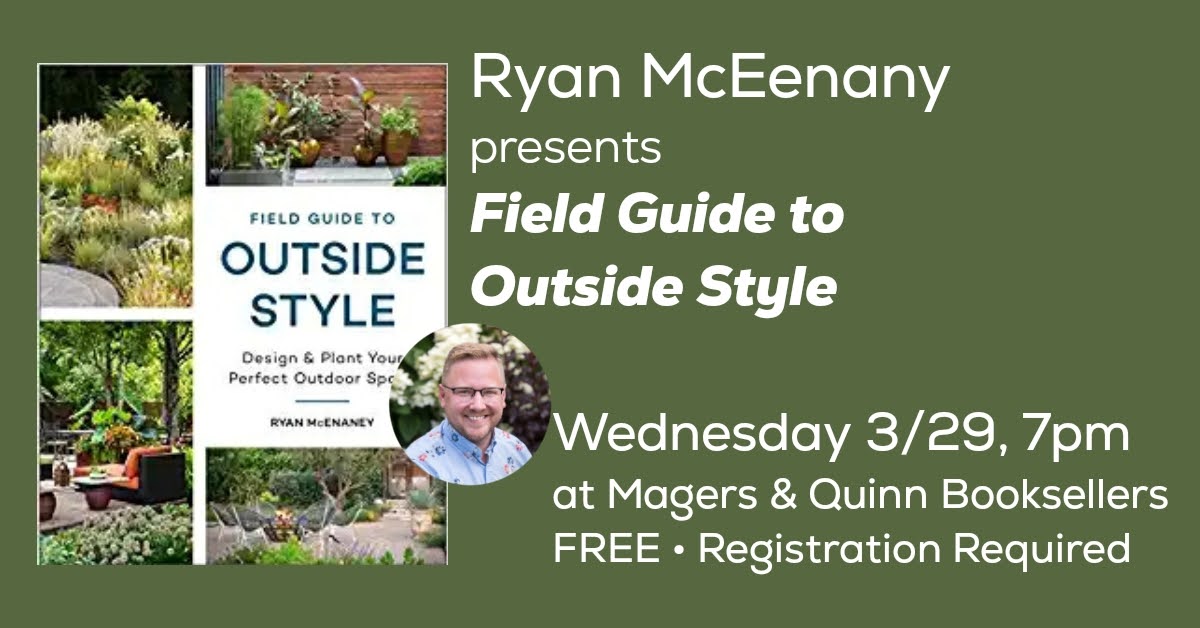 Ryan McEnaney presents Field Guide to Outside Style
Wednesday, March 29, 7:00 PM
In-Store Event - Free Registration Required
Register Now
Field Guide to Outside Style is a beautifully photographed and easy-to-read guide for creating the outdoor space of your dreams. From understanding your personal aesthetic to understanding how much you want to put into and get out of your landscape, this fresh approach to design makes it fun and easy to find plants that work for you and build it into a space that fits your lifestyle. No gardening experience required! This new book helps new, non-gardeners, and Master Gardeners alike in an approachable, lighthearted, and meaningful way.
Ryan McEnaney is a Minnesota-based landscape designer and garden communicator. He serves as spokesperson for some of the world's best-selling plant brands, including Endless Summer® Hydrangeas, and as such has been seen in Real Simple, Better Homes & Gardens, HGTV Magazine, Martha Stewart Living, and more. McEnaney is also a fifth-generation owner of Bailey Nurseries, a 117-year-old family nursery based in St. Paul, Minnesota.
A note about in person events:
We are very excited to bring authors and readers back together in our space, and we know you are too!
As we all navigate the transition back to congregating in person, we ask that you use honesty, care, and understanding in interacting with fellow event-goers, staff, and authors.
Please note that Magers & Quinn will always comply with current city and state regulations, and reserves the right to change the below policies at any time. These are guidelines only, and if you have questions about the most up to date information, you can always call us at 612-822-4611.
For information about how our in-person events work, please read on:
Q: Are masks required?
A: Masks are not required to browse in the store. However, we strongly encourage masking while seated in the event area and waiting in the signing line.
For the health and safety of others, we strongly encourage you to wear a mask or face covering, especially for longer visits to the store such as events.
Q: Are in store events free?
A: Yes, Magers & Quinn events are free and open to the public unless otherwise noted.
Q: Do I need to RSVP?
A: Yes, please. Each event will now include a registration link.
As we navigate this step back to in-person events, we will be limiting event capacity to ensure a safe and comfortable experience for all attendees and authors. By requiring pre-registration, we can easily communicate event updates and policies with those who plan to attend, and can contact attendees after the event with follow-up information.
We strongly suggest registering via the Eventbrite link provided on our website, but if you are unable to sign up online, please call or visit the bookstore and register with a bookseller.
We may or may not be able to accommodate unregistered walk-ins, and seating priority will always be given to registered customers. We appreciate your understanding of this process!