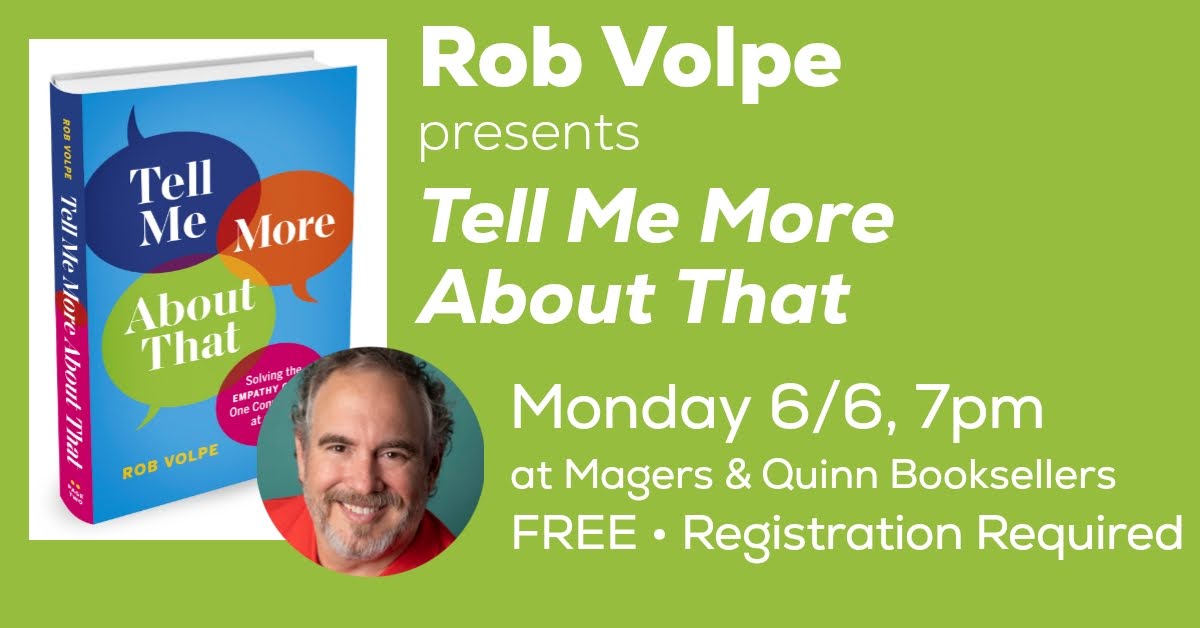 Rob Volpe presents Tell Me More About That
Monday, June 6, 7:00 PM
In-Store Event - Registration Required
Register Now
A timely and important guide to developing empathy, in a world where it is increasingly lacking. Drawing on his years conducting thousands of in-home interviews with everyday people, Rob Volpe illustrates the 5 Steps to Empathy―the actions you can take to build a strong and reflexive empathy muscle.
Though he may have been invited into these homes as a marketing researcher, he left them as an expert on empathy. Along the way, he discovered that there exists a set of common values connecting us all. Strip away the exterior wrapping of blue state/red state, straight or gay, black or white, and we're all far more similar than we are different. With empathy, we can all learn and understand more than we ever imagined possible.
Rob Volpe is an astute observer of life and a master storyteller who brings empathy and compassion to the human experience. As CEO of Ignite 360, he leads a team of insights, strategy, and creative professionals serving the world's leading brands across a range of industries. A thought leader in the role of empathy in marketing and the workplace, Rob frequently speaks on the topic at conferences, corporations, and college classes. He has been quoted in Advertising Week, Mashable, Huffington Post, TheStreet.com, Gourmet Retailer, and The Chicago Tribune, among others. A graduate of Syracuse University's S.I. Newhouse School of Public Communications, he lives in San Francisco with his husband and three cats.
A note about in person events:
We are very excited to bring authors and readers back together in our space, and we know you are too!
As we all navigate the transition back to congregating in person, we ask that you use honesty, care, and understanding in interacting with fellow event-goers, staff, and authors.
Please note that Magers & Quinn will always comply with current city and state regulations, and reserves the right to change the below policies at any time. These are guidelines only, and if you have questions about the most up to date information, you can always call us at 612-822-4611.
For information about how our in-person events will work over the coming months, please read on:
Q: Are masks required?
A: Please wear a mask while in the event area and in the signing line.
For the health and safety of others, we strongly encourage you to wear a mask or face covering.
Q: Are in store events free?
A: Yes, Magers & Quinn events are free and open to the public unless otherwise noted.
Q: Do I need to RSVP?
A: Yes, please. Each event will now include a registration link.
As we navigate this step back to in-person events, we will be limiting event capacity to ensure a safe and comfortable experience for all attendees and authors. By requiring pre-registration, we can easily communicate event updates and policies with those who plan to attend, and can contact attendees after the event with follow-up information.
We strongly suggest registering via the Eventbrite link provided on our website, but if you are unable to sign up online, please call or visit the bookstore and register with a bookseller.
We may or may not be able to accommodate unregistered walk-ins, and seating priority will always be given to registered customers. We appreciate your understanding of this new process!