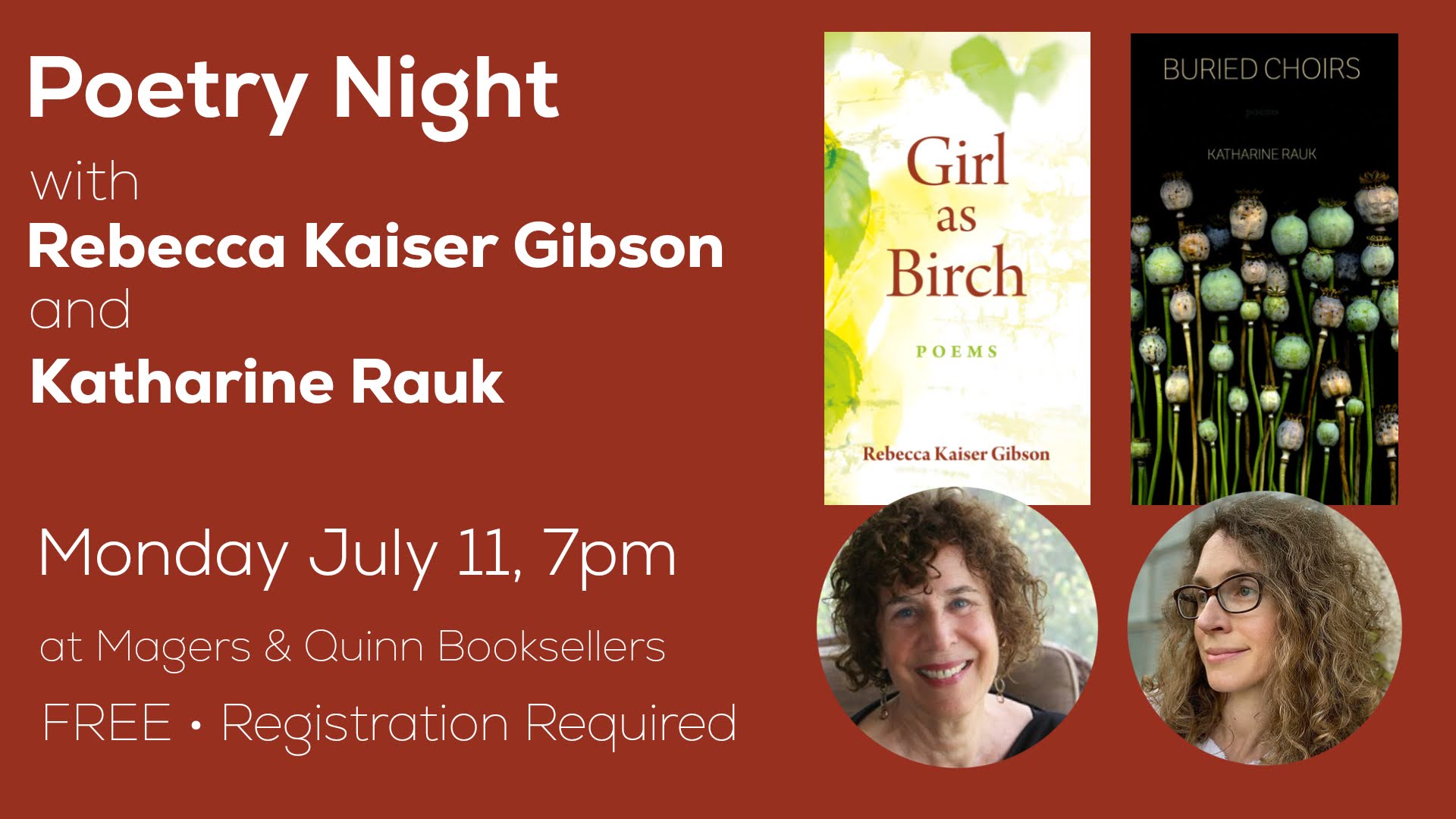 Poetry Night with Rebecca Kaiser Gibson and Katharine Rauk
Monday, July 11, 7:00 PM
In-Store Event - Free Registration Required
Register Now
In Girl as Birch, Gibson mimics the flexible (adaptable? too pliant? healthily, if secretly, resilient, then, finally, aligned) motion of a birch in strong wind, as it relates to the options seemingly available to her, growing up as a girl. The poems imitate in form the experiences they evoke. The leitmotifs of red, birches, mirrors, walls enclosing gardens, labyrinths as metaphors for constraint, recur throughout the book. Without being a manifesto, Girl as Birch explores female gender roles with both pliant and uprising imagery and action. Restriction and rebellion, silence and speech, appearance and artifice, passion and repression, the past and being present, buffet and embolden the speaker of these poems. The elastic and varied syntax, pace, music, and the use of rhetoric and wit express deft self-examination. The book moves from serial impressionistic poems of early childhood to discrete lyric poems of memory and experience and on to a sense of emotional, social, spiritual evolution, not resolution.
In BURIED CHOIRS, Katharine Rauk invites us into a landscape of sea glass, licorice wheels, and coins kept beneath the tongue. Her lines turn and break in surprising ways, sometimes unsettlingly so; these poems might be absolutely true at the same time they are delectable lies. Nevertheless, this collection is driven by a restless hunger to connect—with the dead, an imaginary friend, a lover—whoever or whatever might be just beyond reach.
REBECCA KAISER GIBSON is the author of Girl as Birch (forthcoming from Bauhan Publishing, 2021), Opinel (Bauhan Publishing, 2015), and two chapbooks, Admit the Peacock and Inside the Exhibition. She is the recipient of fellowships from MacDowell, The Heinrich Böll Cottage in Ireland, and the Massachusetts Cultural Council and was selected as a Fulbright Scholar to teach poetry in Hyderabad, India, in 2011. She is founder and director of The Loom, Poetry in Harrisville, a poetry reading series. Her poems have appeared in The Adroit Journal, Agni, Field, The Greensboro Review, Green Mountain Review, The Harvard Review, Ocean State Review, Salamander, Slate, and Verse-Daily, among others. Rebecca lives in Marlborough, New Hampshire, and taught poetry at Tufts University for 23 years.
Katharine Rauk is the author of Buried Choirs (Tinderbox Editions) and the chapbook Basil (Black Lawrence Press). She teaches at North Hennepin Community College in Minnesota.
A note about in person events:
We are very excited to bring authors and readers back together in our space, and we know you are too!
As we all navigate the transition back to congregating in person, we ask that you use honesty, care, and understanding in interacting with fellow event-goers, staff, and authors.
Please note that Magers & Quinn will always comply with current city and state regulations, and reserves the right to change the below policies at any time. These are guidelines only, and if you have questions about the most up to date information, you can always call us at 612-822-4611.
For information about how our in-person events will work over the coming months, please read on:
Q: Are masks required?
A: Please wear a mask while in the event area and in the signing line.
For the health and safety of others, we strongly encourage you to wear a mask or face covering.
Q: Are in store events free?
A: Yes, Magers & Quinn events are free and open to the public unless otherwise noted.
Q: Do I need to RSVP?
A: Yes, please. Each event will now include a registration link.
As we navigate this step back to in-person events, we will be limiting event capacity to ensure a safe and comfortable experience for all attendees and authors. By requiring pre-registration, we can easily communicate event updates and policies with those who plan to attend, and can contact attendees after the event with follow-up information.
We strongly suggest registering via the Eventbrite link provided on our website, but if you are unable to sign up online, please call or visit the bookstore and register with a bookseller.
We may or may not be able to accommodate unregistered walk-ins, and seating priority will always be given to registered customers. We appreciate your understanding of this process!