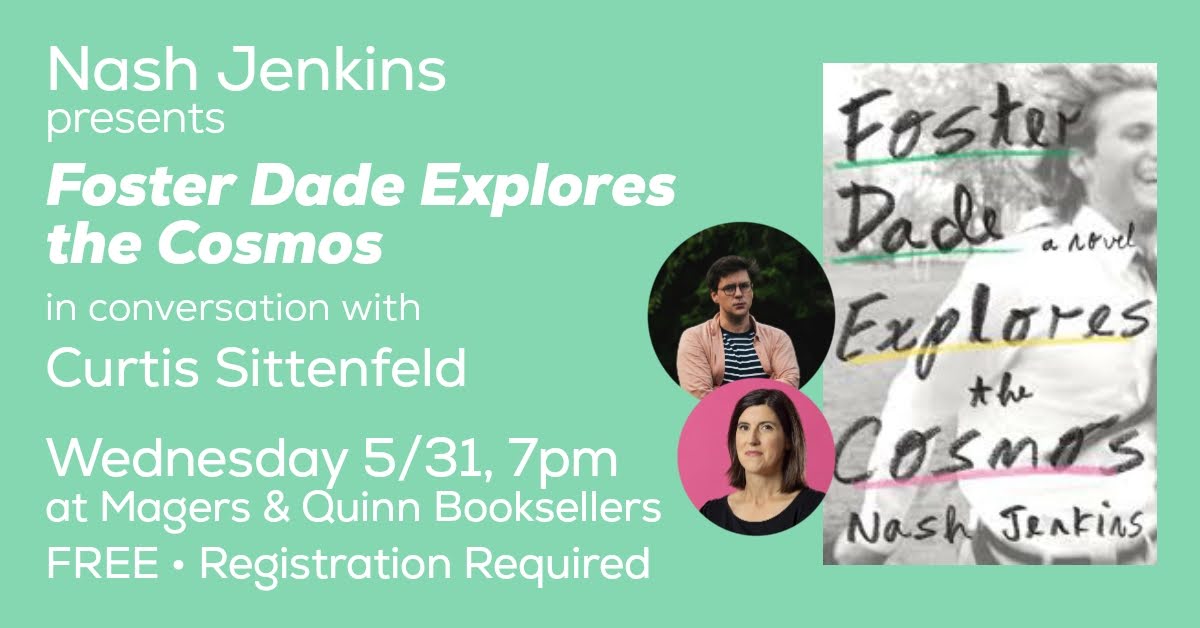 Nash Jenkins presents Foster Dade Explores the Cosmos
Wednesday, May 31, 7:00 PM
In-Store Event - Registration Required
Register Now
When Foster Dade arrives at Kennedy, an elite boarding school in New Jersey, the year is 2008. Barack Obama begins his first term as president; Vampire Weekend and Passion Pit bump from the newly debuted iPhone; teenagers share confidences and rumors over BlackBerry Messenger and iChat; and the internet as we know it is slowly emerging from its cocoon. So, too, is Foster emerging—a transfer student and anxious young man, Foster is stumbling through adolescence in the wake of his parents' scandalous divorce. But Foster soon finds himself in the company of Annabeth Whittaker and Jack Albright, the twin centers of Kennedy's social gravity, who take him under their wing to navigate the cliques and politics of the carelessly entitled.
Eighteen months later, Foster will be expelled, following a tragic scandal that leaves Kennedy and its students irreparably changed. When our nameless narrator inherits Foster's old dorm room, he begins an epic yearslong investigation into what exactly happened. Through interviews with former classmates, Foster's blog posts, playlists, and text archives, and the narrator's own obsessive imagination, a story unfurls—Foster's, yes, but also one that asks us who owns our personal narratives, and how we shape ourselves to be the heroes or villains of our own stories.
Foster Dade Explores the Cosmos is about privilege and power, the pitfalls of masculinity and its expectations, and, most distinctly, how we create the mythologies that give meaning to our lives. With his debut novel, Nash Jenkins brilliantly captures the emotional intensities of adolescence in the dizzying early years of the twenty-first century.
Nash Jenkins grew up in Wilmington, North Carolina, and graduated from the Lawrenceville School in New Jersey in 2011. After graduating from Johns Hopkins University, he worked as a correspondent for Time in Hong Kong and Washington, D.C.; his cultural commentary has also been published by the Atlantic. He received his MA from the University of Chicago in 2019 and he is currently a PhD student in Media, Technology, and Society at Northwestern University. Jenkins lives in Chicago.
Curtis Sittenfeld is the bestselling author of seven novels, including Prep, American Wife, Eligible and Rodham, and one story collection, You Think It, I'll Say It. Her newest novel, Romantic Comedy, was published in April 2023. Her books have been selected by The New York Times, Time, EW, and People for their "Ten Best Books of the Year" lists, picked twice for Reese Witherspoon's book club, and translated into thirty languages. Her short stories have appeared in The New Yorker, The Atlantic, and The Best American Short Stories anthology, of which she was the 2020 guest editor. She lives with her family in Minneapolis.
A note about in person events:
We are very excited to bring authors and readers back together in our space, and we know you are too!
As we all navigate the transition back to congregating in person, we ask that you use honesty, care, and understanding in interacting with fellow event-goers, staff, and authors.
Please note that Magers & Quinn will always comply with current city and state regulations, and reserves the right to change the below policies at any time. These are guidelines only, and if you have questions about the most up to date information, you can always call us at 612-822-4611.
For information about how our in-person events work, please read on:
Q: Are masks required?
A: Masks are not required to browse in the store. However, we strongly encourage masking while seated in the event area and waiting in the signing line.
For the health and safety of others, we strongly encourage you to wear a mask or face covering, especially for longer visits to the store such as events.
Q: Are in store events free?
A: Yes, Magers & Quinn events are free and open to the public unless otherwise noted.
Q: Do I need to RSVP?
A: Yes, please. Each event will now include a registration link.
As we navigate this step back to in-person events, we will be limiting event capacity to ensure a safe and comfortable experience for all attendees and authors. By requiring pre-registration, we can easily communicate event updates and policies with those who plan to attend, and can contact attendees after the event with follow-up information.
We strongly suggest registering via the Eventbrite link provided on our website, but if you are unable to sign up online, please call or visit the bookstore and register with a bookseller.
We may or may not be able to accommodate unregistered walk-ins, and seating priority will always be given to registered customers. We appreciate your understanding of this process!