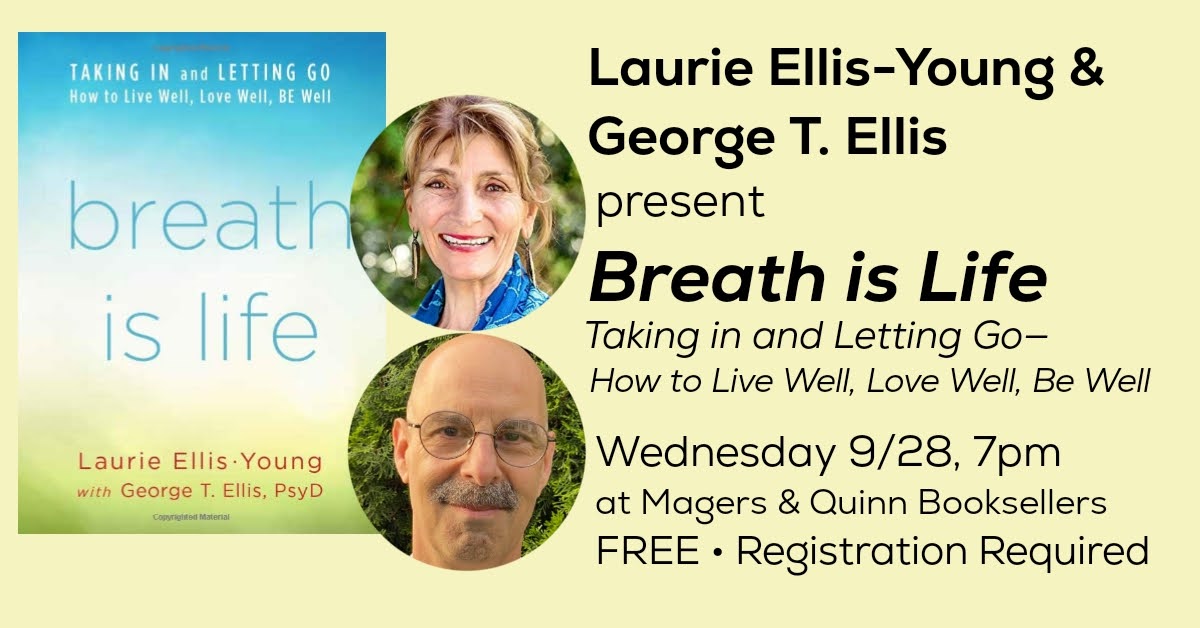 Laurie Ellis-Young and George T. Ellis
Wednesday, September 28, 7:00 PM
In-Store Event - Registration Required
Register Now
"Breathe. Your body, your relationships, and your life will change. It's that simple. The book has a strong structure that builds its instruction well. It begins with basics like why breathing is important, and addresses breathing as a continual, vital process that many people take for granted." — Mellisa Wuske, Foreword Review
This book discussion with authors Laurie Ellis-Young and George T. Ellis will include stories and videos from the authors mid-September in person European trainings with the Ukrainian mental health professions in exile.
Much of this book was written by authors Laurie and George while living in Ukraine between 2016 –2021. Dr. Ellis was hired to set up a mental health program for "peace monitors" and staff working throughout Ukraine. He was asked to return mid Feb 2022 to further train medical professionals — until being forced to evacuate just before the invasion.
Currently, the authors are volunteering virtually and in-person with exiled mental health professionals to help them deal with their own trauma so they in turn can help support other refugees. Topics from the book include: Managing one's own, and other's nervous systems; How the breath changes the brain; How breath can impact anxiety, trauma, sleeplessness, blood pressure and stress levels.
Backgrounds in neuroscience, mindfulness, yoga, trekking in high mountains, scuba-diving, and work with diverse populations on 5 continents contribute to the authors mastery of breathwork. "When we work with our breath, we work with our hearts. It's physical and energetic. It affects our physical state (blood pressure, digestion, etc.) along with our mental and emotional states." says Ellis-Young.
Breath is Life combines real-life stories, ancient wisdom and leading-edge neuroscience to help harness the remarkable gift of your own breath.
A health and wellness book for:
Well-being and holistic health advocates and healers
Mindfulness and yoga practitioners
Educators and students (kindergarten to life-long learners)
Clinicians, caregivers, and patients
Work teams seeking peak performance
Those navigating chronic illness and/or life transitions
People of all ages, cultures and geographies
". . . the WHY, the WOW, and the HOW of working with your breath for optimal well-being . . . —Rosa Marroquin, MD
Laurie Ellis-Young MTC, SYT is an internationally recognized speaker, Senior Yoga Teacher (Yoga Alliance U.K.), MBSR (Mindfulness Based Stress Reduction) instructor, Peace Ambassador (SHIFT), and a pioneer in teaching optimal breathing. Her fascination with breath came early on through yoga and meditation. During her early career in the stressful airline industry, Laurie took respites on many adventure­-filled treks in the Himalayas and Andes. With limited oxygen, and the highest mountains in the world as her teachers she discovered the power of breath for "peak" performance, physically and psychologically. Laurie has facilitated creating 'global family' by guiding groups to over twenty countries including Mexico, Guatemala, Peru, Ecuador, Bolivia, India, Nepal, Thailand, Tibet, Cambodia, and several countries in Europe.
As founding director of Breathe The Change LLC and co-founder of the non-profit BreathLogic, Laurie is impassioned with sharing Breath Literacy locally and globally. Laurie is also co-author of FRIENDSHIP The Art of the Practice (Tristan Publishing 2010).
George T. Ellis PsyD, LP is a licensed clinical psychologist with 40+ years of experience in conflict resolution, stress management, trauma, cross-cultural psychotherapy, neuropsychology, and MBSR (Mindfulness Based Stress
Reduction). George was attracted to breath by scuba diving and neuroscience research. He has been founding director of numerous programs within global organizations and NGO's including the UN, USAID and OSCE (Organization for Security and Cooperation in Europe) —Ukraine 2016 - 2022.
Dr. Ellis has practiced as a psychologist and consulted nationally, internationally, privately, in innovative schools, active conflict zones, telehealth and the United States prison system
A note about in person events:
We are very excited to bring authors and readers back together in our space, and we know you are too!
As we all navigate the transition back to congregating in person, we ask that you use honesty, care, and understanding in interacting with fellow event-goers, staff, and authors.
Please note that Magers & Quinn will always comply with current city and state regulations, and reserves the right to change the below policies at any time. These are guidelines only, and if you have questions about the most up to date information, you can always call us at 612-822-4611.
For information about how our in-person events work, please read on:
Q: Are masks required?
A: Masks are not required to browse in the store. However, we strongly encourage masking while seated in the event area and waiting in the signing line.
For the health and safety of others, we strongly encourage you to wear a mask or face covering, especially for longer visits to the store such as events.
Q: Are in store events free?
A: Yes, Magers & Quinn events are free and open to the public unless otherwise noted.
Q: Do I need to RSVP?
A: Yes, please. Each event will now include a registration link.
As we navigate this step back to in-person events, we will be limiting event capacity to ensure a safe and comfortable experience for all attendees and authors. By requiring pre-registration, we can easily communicate event updates and policies with those who plan to attend, and can contact attendees after the event with follow-up information.
We strongly suggest registering via the Eventbrite link provided on our website, but if you are unable to sign up online, please call or visit the bookstore and register with a bookseller.
We may or may not be able to accommodate unregistered walk-ins, and seating priority will always be given to registered customers. We appreciate your understanding of this process!