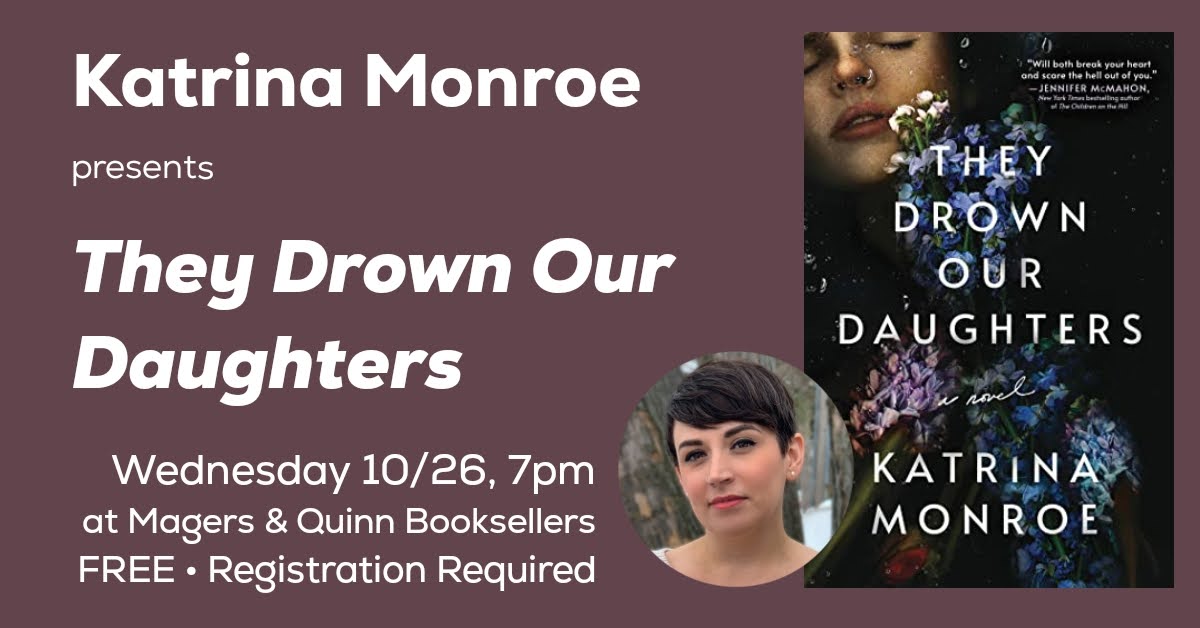 Katrina Monroe presents They Drown Our Daughters
Wednesday, October 26, 7:00 PM
In-Store Event - Registration Required
Register Now
They say Cape Disappointment is haunted. That's why tourists used to flock there in droves. They'd visit the rocky shoreline under the old lighthouse's watchful eye and fish shells from the water as they pretended to spot dark shapes in the surf. Now the tourists are long gone, and when Meredith Strand and her young daughter return to Meredith's childhood home after an acrimonious split from her wife, the Cape seems more haunted by regret than any malevolent force.
But her mother, suffering from early stages of Alzheimer's, is convinced the ghost stories are real. Not only is there something in the water, but it's watching them. Waiting for them. Reaching out to Meredith's daughter the way it has to every woman in their line for generations—and if Meredith isn't careful, all three women, bound by blood and heartbreak, will be lost one by one to the ocean's mournful call.
Set to the moody, eerie backdrop of the coastal Pacific Northwest, THEY DROWN OUR DAUGHTERS is an unforgettably frightening tale about the curses that run through families for generations—and the resolve, resilience, and courage it takes to break patterns of harm and forge new paths for oneself and one's daughters.
Katrina Monroe lives in Minnesota with her wife, two children, and Eddie, the ghost that haunts their bedroom closets. Follow her on Twitter at @authorkatm and on Instagram at @katrinamonroeauthor.
A note about in person events:
We are very excited to bring authors and readers back together in our space, and we know you are too!
As we all navigate the transition back to congregating in person, we ask that you use honesty, care, and understanding in interacting with fellow event-goers, staff, and authors.
Please note that Magers & Quinn will always comply with current city and state regulations, and reserves the right to change the below policies at any time. These are guidelines only, and if you have questions about the most up to date information, you can always call us at 612-822-4611.
For information about how our in-person events work, please read on:
Q: Are masks required?
A: Masks are not required to browse in the store. However, we strongly encourage masking while seated in the event area and waiting in the signing line.
For the health and safety of others, we strongly encourage you to wear a mask or face covering, especially for longer visits to the store such as events.
Q: Are in store events free?
A: Yes, Magers & Quinn events are free and open to the public unless otherwise noted.
Q: Do I need to RSVP?
A: Yes, please. Each event will now include a registration link.
As we navigate this step back to in-person events, we will be limiting event capacity to ensure a safe and comfortable experience for all attendees and authors. By requiring pre-registration, we can easily communicate event updates and policies with those who plan to attend, and can contact attendees after the event with follow-up information.
We strongly suggest registering via the Eventbrite link provided on our website, but if you are unable to sign up online, please call or visit the bookstore and register with a bookseller.
We may or may not be able to accommodate unregistered walk-ins, and seating priority will always be given to registered customers. We appreciate your understanding of this process!