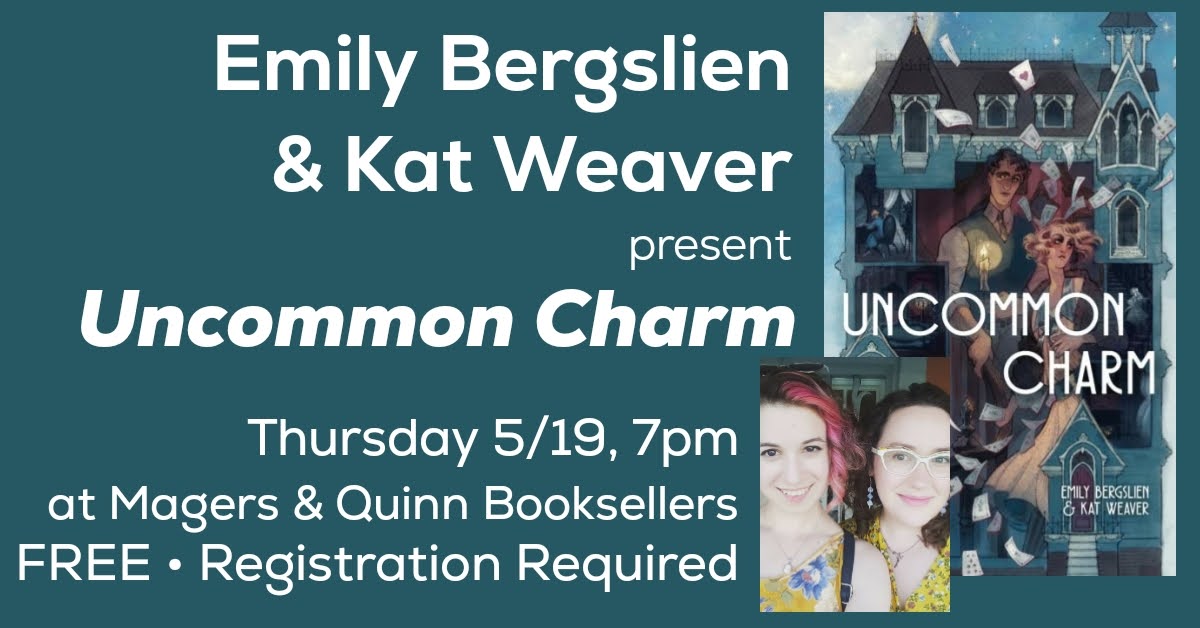 Emily Bergslien and Kat Weaver present Uncommon Charm
Thursday, May 19, 7:00 PM
In-Store Event - Registration Required
Register Now
Three days after I was expelled from the Marable School for Girls, our poor Simon arrived.
In the 1920s gothic comedy Uncommon Charm, bright young socialite Julia and shy Jewish magician Simon decide they aren't beholden to their families' unhappy history. Together they confront such horrors as murdered ghosts, alive children, magic philosophy, a milieu that slides far too easily into surrealist metaphor, and, worst of all, serious adult conversation.
Part of Neon Hemlock's 2022 Novella Series.
Emily Bergslien and Kat Weaver live in Saint Paul, Minnesota with their two small birds. Emily is a Twin Cities bookseller whose reviews have been published in The Riveter magazine. Find her on Twitter @eudaemaniacal.
Kat's short fiction has appeared in Apex Magazine, Lackington's, Timeworn Literary Journal, and elsewhere. She is a senior fiction editor at Strange Horizons. Her art can be found at kathrynmweaver.com and on Twitter @anoteinpink.
A note about in person events:
We are very excited to bring authors and readers back together in our space, and we know you are too!
As we all navigate the transition back to congregating in person, we ask that you use honesty, care, and understanding in interacting with fellow event-goers, staff, and authors.
Please note that Magers & Quinn will always comply with current city and state regulations, and reserves the right to change the below policies at any time. These are guidelines only, and if you have questions about the most up to date information, you can always call us at 612-822-4611.
For information about how our in-person events will work over the coming months, please read on:
Q: Are masks required?
A: Please wear a mask while in the event area and in the signing line.
For the health and safety of others, we strongly encourage you to wear a mask or face covering.
Q: Are in store events free?
A: Yes, Magers & Quinn events are free and open to the public unless otherwise noted.
Q: Do I need to RSVP?
A: Yes, please. Each event will now include a registration link.
As we navigate this step back to in-person events, we will be limiting event capacity to ensure a safe and comfortable experience for all attendees and authors. By requiring pre-registration, we can easily communicate event updates and policies with those who plan to attend, and can contact attendees after the event with follow-up information.
We strongly suggest registering via the Eventbrite link provided on our website, but if you are unable to sign up online, please call or visit the bookstore and register with a bookseller.
We may or may not be able to accommodate unregistered walk-ins, and seating priority will always be given to registered customers. We appreciate your understanding of this new process!