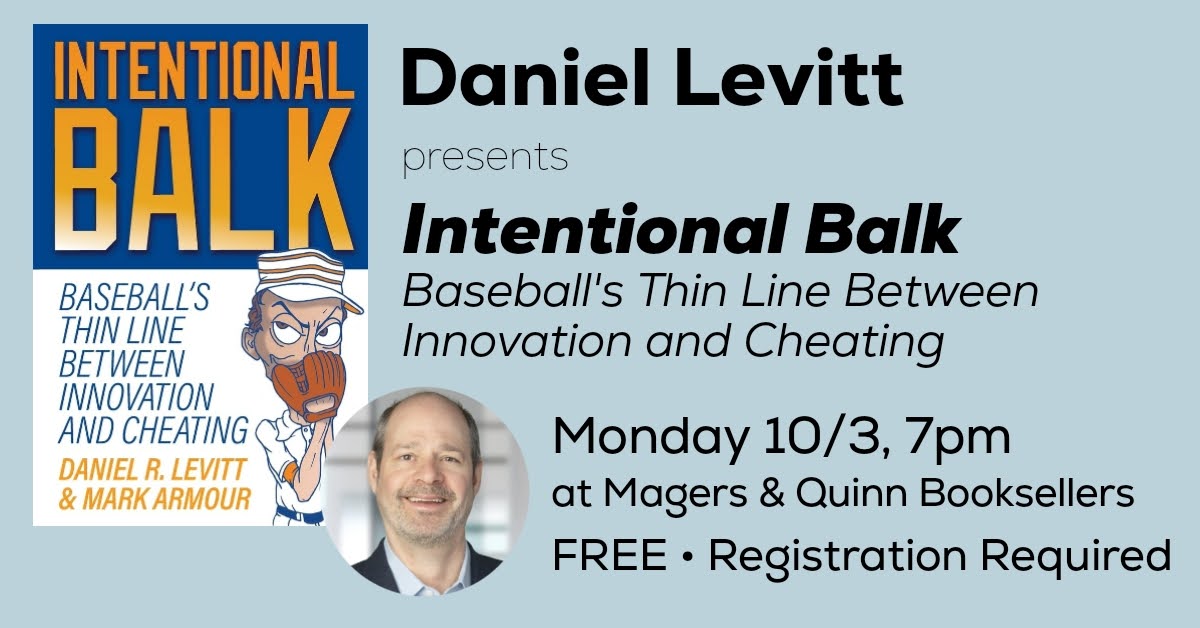 Dan Levitt presents Intentional Balk: Baseball's Thin Line Between Innovation and Cheating
Monday, October 3, 7:00 PM
In-Store Event - Registration Required
Register Now
From the moment of its inception, the quintessentially American sport of baseball has included cheating. Sometimes that rule-skirting has been embraced as ingenious hijinks; other times, reviled as an unforgivable trespass. But where is the line? Why is skipping bases less egregious than signing underage players? Is sign-stealing evidence of ingenuity, or does it fundamentally change the nature of the game?
In Intentional Balk, baseball historians Dan Levitt and Mark Armour examine cheating in baseball as the pursuit of a competitive edge that, in other endeavors, might be heralded as innovation.
The authors trace baseball's history of cheating—from the 1880s, when pitchers hiked up their pants to allow for higher throws, to recent steroid controversies that have mired America's pastime in bitter courtroom battles. Wherever you come down on the question of what's savvy and what's merely scurrilous, Intentional Balk offers an engrossing chronicle of the players, coaches, groundskeepers and management who for more than 150 years have sought an advantage to win at all costs.
Dan Levitt has written four critically acclaimed books and dozens of essays illuminating the role of managers, owners and players in shaping baseball culture and history. He is the author of The Battle That Forged Modern Baseball: The Federal League Challenge and Its Legacy, which won the 2013 Larry Ritter Award. Dallas Morning News sportswriter Allen Barra described the book as "one of the most important historical baseball works so far this century." Levitt is the recipient of SABR's prestigious Bob Davids Award, among numerous other honors, including SABR's lifetime achievement award honoring baseball's historians, statisticians, and archivists. Levitt is also an occasional commentator on MLB Network TV.A regular speaker at SABR's annual convention, Levitt has presented at the Cooperstown Symposium on Baseball and American Culture. His formidable knowledge and nuanced attention to detail enhance any fan's love of the game. More on Dan can be found at http://daniel-levitt.com/
Mark Armour's specialty is writing about mid-20th century baseball history, labor relations, biographies and baseball cards. He has won numerous awards for his work, including SABR's two most prestigious – the Bob Davids Award for contributions to the organization, and the Henry Chadwick Award for research. Armour's 2010 book, Joe Cronin: A Life in Baseball, was a finalist for the prestigious Seymour Medal. Armour has also edited books on the 1970 Baltimore Orioles, the 1975 Cincinnati Reds, and the history of baseball in the Pacific Northwest. In 2002, Armour created SABR's Baseball Biography Project, a 20-year effort to publish substantial biographies of people across the entire history of baseball. The project has now published more than 5,000 biographies, with hundreds more in progress. Armour also was an advisor for "Shoebox Treasures," a permanent exhibit at the Baseball Hall of Fame on baseball cards. Armour's many leadership roles within SABR include his chairmanship of the Negro Leagues Task Force, which in early 2021 announced that SABR would thereafter recognize eight Negro Leagues as Major Leagues. More on Mark can be found at http://mark-armour.net/
A note about in person events:
We are very excited to bring authors and readers back together in our space, and we know you are too!
As we all navigate the transition back to congregating in person, we ask that you use honesty, care, and understanding in interacting with fellow event-goers, staff, and authors.
Please note that Magers & Quinn will always comply with current city and state regulations, and reserves the right to change the below policies at any time. These are guidelines only, and if you have questions about the most up to date information, you can always call us at 612-822-4611.
For information about how our in-person events work, please read on:
Q: Are masks required?
A: Masks are not required to browse in the store. However, we strongly encourage masking while seated in the event area and waiting in the signing line.
For the health and safety of others, we strongly encourage you to wear a mask or face covering, especially for longer visits to the store such as events.
Q: Are in store events free?
A: Yes, Magers & Quinn events are free and open to the public unless otherwise noted.
Q: Do I need to RSVP?
A: Yes, please. Each event will now include a registration link.
As we navigate this step back to in-person events, we will be limiting event capacity to ensure a safe and comfortable experience for all attendees and authors. By requiring pre-registration, we can easily communicate event updates and policies with those who plan to attend, and can contact attendees after the event with follow-up information.
We strongly suggest registering via the Eventbrite link provided on our website, but if you are unable to sign up online, please call or visit the bookstore and register with a bookseller.
We may or may not be able to accommodate unregistered walk-ins, and seating priority will always be given to registered customers. We appreciate your understanding of this process!