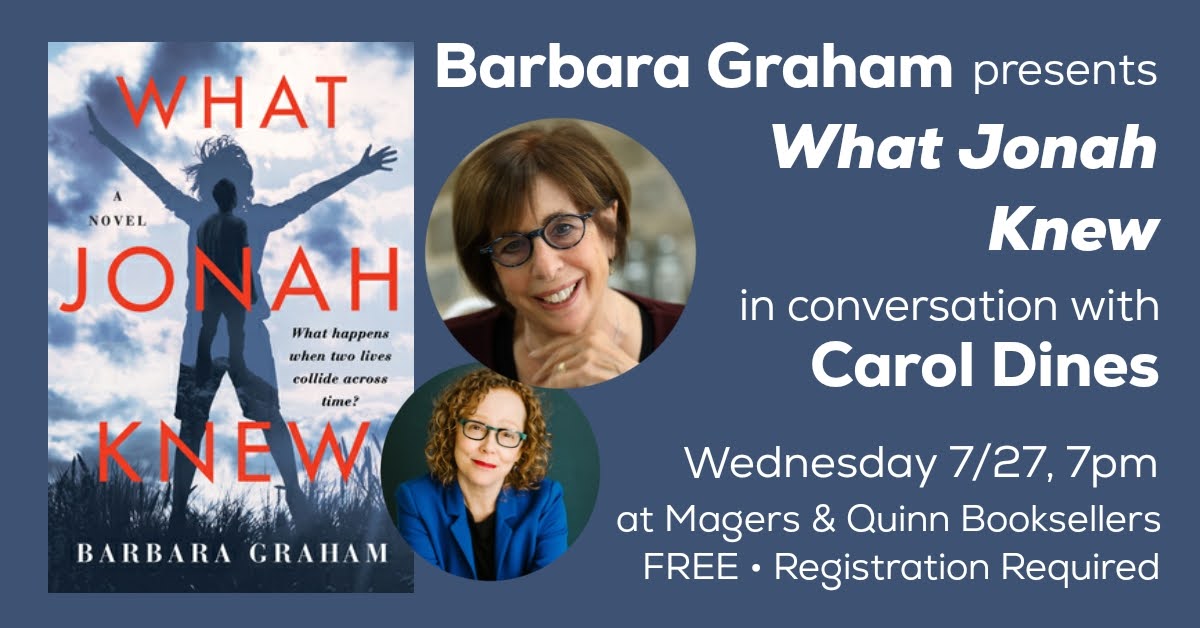 Barbara Graham Presents What Jonah Knew
Wednesday, July 27, 7:00 PM
Virtual Event - Free Registration Required
Register Now
A seven-year-old boy inexplicably recalls the memories of a missing 22-year-old musician in this psychological thriller about the fierce love between mothers and sons across lifetimes, a work of gripping suspense with a supernatural twist that will mesmerize fans of Chloe Benjamin and Lisa Jewell.
Helen Bird will stop at nothing to find Henry, her musician son who has mysteriously disappeared in upstate New York. Though the cops believe Henry's absence is voluntary, Helen knows better.
While she searches for him—joined finally by police—Jonah is born to Lucie and Matt Pressman of Manhattan. Lucie does all she can to be the kind of loving, attentive mother she never had, but can't stop Jonah's night terrors or his obsession with the imaginary "other mom and dog" he insists are real.
Whether Jonah's anxiety is caused by nature or nurture—or something else entirely—is the propulsive mystery at the heart of the novel.
All hell breaks loose when the Pressmans rent a summer cottage in Aurora Falls, where Helen lives. How does Jonah, at seven, know so much about Henry, Helen's still-missing son? Is it just a bizarre coincidence? An expression of Jung's collective unconscious? Or could Jonah be the reincarnation of Henry?
Faced with more questions than answers, Helen and Lucie set out to make sense of the insensible, a heart-stopping quest that forces them to redefine not just what it is to be a mother or a human being, but the very nature of life—and death—because of what Jonah knows.
Barbara Graham is an author, essayist, and playwright. Her pieces have appeared in many magazines and websites, including Glamour, O, the Oprah Magazine, National Geographic Traveler, Psychotherapy Networker, Redbook, Self, Time, Utne Reader, Vogue, and npr.org, in addition to being collected in numerous anthologies. She is the author of the New York Times bestseller Eye of My Heart, the national bestseller Women Who Run with the Poodles, and Camp Paradox, a memoir. Her plays have been produced Off-Broadway at the WPA Theatre in New York and at theaters around the country. For more about Barbara Graham and her writing, visit: https://barbaragrahamauthor.com.
Carol Dines's new young adult novel, The Take-Over Friend, finalist for the Achevan Prize, will be forthcoming from Fitzroy Books October, 2022. Her recent adult fiction, a collection of stories, This Distance We Call Love, won the Eric Hoffer Book Prize, 2022. In addition, her recent stories have been published in Ploughshares, Salamander, Narrative, Colorado Review, and Nimrod International. She has also published two novels for young adults, Best Friends Tell the Best Lies (Delacorte), The Queen's Soprano (Harcourt) and a collection of short stories for young adults, Talk to Me (Delacorte.) Her poems and stories have appeared in numerous journals and anthologies, including Somebody's Speaking My Language (Women's Voices Press), Voices of the Land (Milkweed), and Love and Lust: An Anthology, (Taylor and O'Neill's Open To Interpretation, 2014). She is a recipient of the Judy Blume award as well as a recipient of Minnesota and Wisconsin State Artist Fellowships. Dines received a BA from Stanford University and an MA in English from Colorado State University. She has taught writing to all ages at universities, colleges, and public schools in Colorado, Florida, Wisconsin, and Minnesota. She lives in Minneapolis with her husband, Jack Zipes, and their standard poodle.
A note about in person events:
We are very excited to bring authors and readers back together in our space, and we know you are too!
We ask that you use honesty, care, and understanding in interacting with fellow event-goers, staff, and authors.
Please note that Magers & Quinn will always comply with current city and state regulations, and reserves the right to change the below policies at any time. These are guidelines only, and if you have questions about the most up to date information, you can always call us at 612-822-4611.
For information about how our in-person events will work over the coming months, please read on:
Q: Are masks required?
A: Please wear a mask while in the event area and in the signing line, and during the hike, if attending.
For the health and safety of others, we strongly encourage you to wear a mask or face covering.
Q: Are in store events free?
A: Yes, Magers & Quinn events are free and open to the public unless otherwise noted.
Q: Do I need to RSVP?
A: Yes, please. Each event will now include a registration link.
As we navigate this step back to in-person events, we will be limiting event capacity to ensure a safe and comfortable experience for all attendees and authors. By requiring pre-registration, we can easily communicate event updates and policies with those who plan to attend, and can contact attendees after the event with follow-up information.
We strongly suggest registering via the Eventbrite link provided on our website, but if you are unable to sign up online, please call or visit the bookstore and register with a bookseller.
We may or may not be able to accommodate unregistered walk-ins, and seating priority will always be given to registered customers. We appreciate your understanding of this new process!