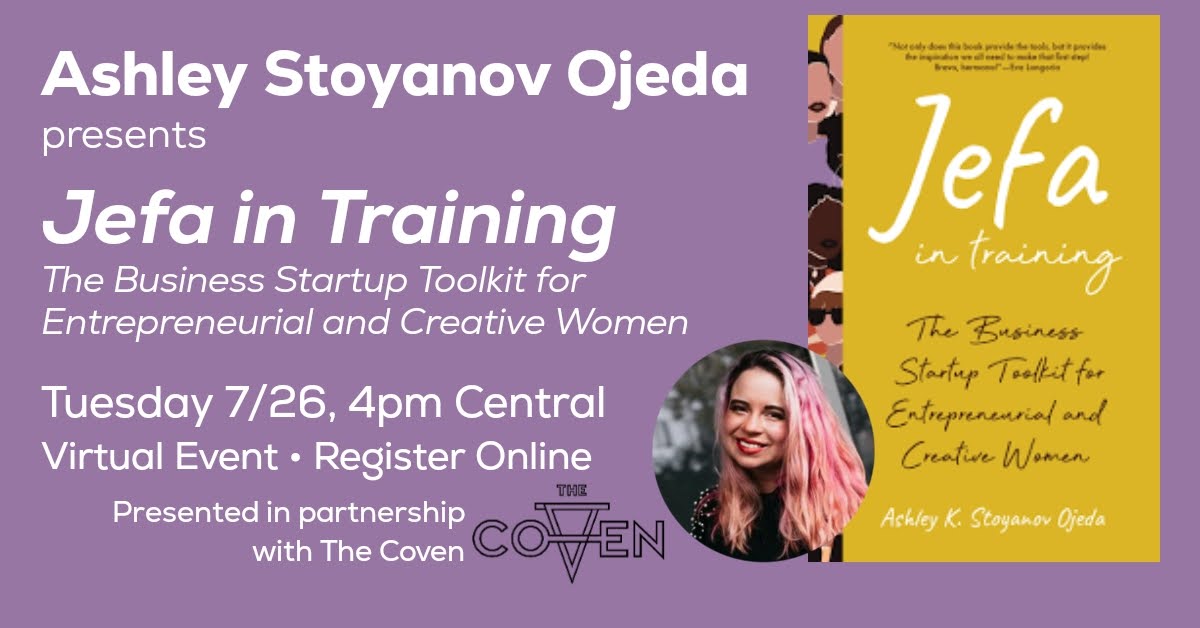 Ashley Stoyanov Ojeda presents Jefa in Training
Tuesday, July 26, 4:00 PM
Virtual Event - Register Through Eventbrite
Register Now
This event has been rescheduled for 4pm on Tuesday, July 26.

JEFA IN TRAINING IS THE FIRST SPANGLISH STEP BY STEP GUIDE TO LAUNCHING YOUR NEXT PROJECT - FOR LATINAS BY LATINAS.
Jefas, now is the time to build your enterprise. The only Spanglish project-launching toolkit and planner, Jefa in Training is especially made for the new generation of boss women.
In this intimate conversation with a special tribe of first-generation Latinas, Latina immigrants, and women of color in financial, media, entrepreneurial, and creative spaces, you'll explore a more complex view of Latinidad that covers everything from imposter syndrome to bilingualism.
Taking you from conception to post-launch, Jefa in Training invites you to let go of your fears and finally launch that blog, business, project, or platform.
Whether a solopreneur or startup founder, this colorful compendium of lessons, interviews, and worksheets, is everything you need to take your side hustle to the next level, start working for yourself, and turn your ideas into something much bigger.
Ashley K. Stoyanov Ojeda is a business development + communications strategist for startups (The Mujerista, OwnTrail + more), business coach, and author of the first Spanglish business-launching book for the next generation of Latinas, Jefa in Training. Follow her on IG @ashleykstoyanovojeda.
This event is presented in partnership with The Coven
Registered customers will receive event access link via email prior to the event.