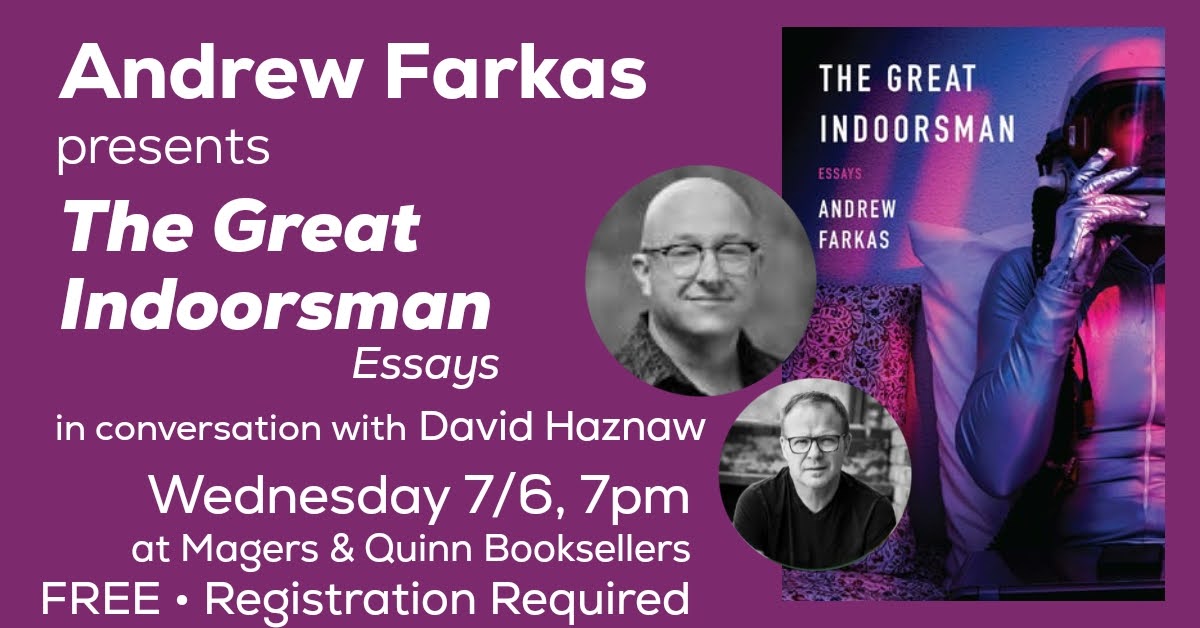 Andrew Farkas presents The Great Indoorsman
Wednesday, July 6, 7:00 PM
In-Store Event - Registration Required
Register Now
Many authors have traveled and explored the out-of-doors, both in life and then in their books, proving themselves stalwart, audacious, even heroic; Andrew Farkas is not among them. He is brave enough to admit that the outdoors isn't for him.
Instead, in these essays Farkas reports on his bold explorations of a very different territory: the in-of-doors, the waiting rooms, kitchens, malls, bars, theaters, roadside motel rooms, and other places that feature temperature control, protection from rampaging predators, and a higher degree of comfort than can be found outside.
Farkas discovers that, just as the mannered and wonderfully (gloriously) artificial indoors influences us greatly, our lives are also controlled much more by fiction than by anything "real." So come in out of the weather (it's always terrible) and join the Great Indoorsman on his adventures, where he makes fun of pretty much everything, most of all himself.
Andrew Farkas is the author of The Great Indoorsman: Essays, The Big Red Herring (a novel), Sunsphere (stories), and Self-Titled Debut (stories). He is the fiction editor for The Rupture and a creative writing professor at Washburn University.
David Haznaw is the author of the essay collections A Year in Words and I Told You I Was Dehydrated.
A note about in person events:
We are very excited to bring authors and readers back together in our space, and we know you are too!
As we all navigate the transition back to congregating in person, we ask that you use honesty, care, and understanding in interacting with fellow event-goers, staff, and authors.
Please note that Magers & Quinn will always comply with current city and state regulations, and reserves the right to change the below policies at any time. These are guidelines only, and if you have questions about the most up to date information, you can always call us at 612-822-4611.
For information about how our in-person events will work over the coming months, please read on:
Q: Are masks required?
A: Please wear a mask while in the event area and in the signing line.
For the health and safety of others, we strongly encourage you to wear a mask or face covering.
Q: Are in store events free?
A: Yes, Magers & Quinn events are free and open to the public unless otherwise noted.
Q: Do I need to RSVP?
A: Yes, please. Each event will now include a registration link.
As we navigate this step back to in-person events, we will be limiting event capacity to ensure a safe and comfortable experience for all attendees and authors. By requiring pre-registration, we can easily communicate event updates and policies with those who plan to attend, and can contact attendees after the event with follow-up information.
We strongly suggest registering via the Eventbrite link provided on our website, but if you are unable to sign up online, please call or visit the bookstore and register with a bookseller.
We may or may not be able to accommodate unregistered walk-ins, and seating priority will always be given to registered customers. We appreciate your understanding of this process!