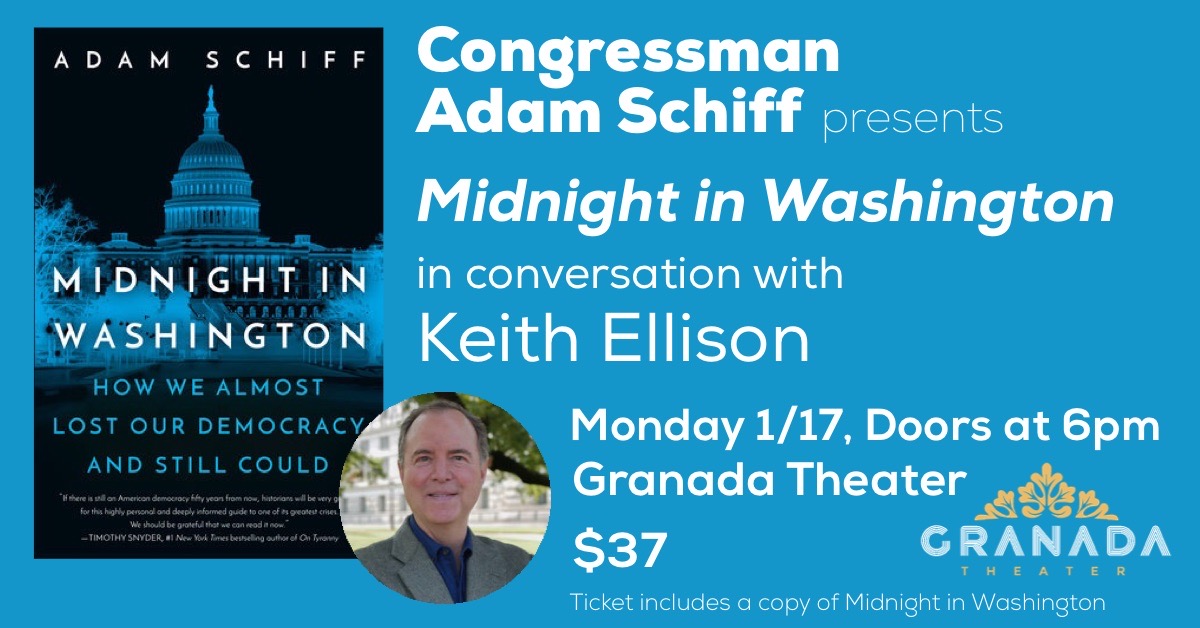 An Evening with Congressman Adam Schiff
Monday, January 17, 7:00 PM
Off-Site Event - The Granada Theater & Uptown Lobby
Purchase Tickets
in conversation with MN Attorney General Keith Ellison
Magers & Quinn presents an exclusive in-person event with Congressman Adam Schiff for his new book, Midnight in Washington: How We Almost Lost Our Democracy and Still Could, at the Granada Theater in Uptown (3022 Hennepin Ave S.)
Congressman Schiff led the first impeachment of Donald J. Trump and his new book, Midnight in Washington is the vital inside account of American democracy in its darkest hour, and a warning that the forces of autocracy unleashed by Trump remain as potent as ever.
For this seated event, Granada Theater & Uptown Lobby ask that if you are not actively eating or drinking that you kindly wear your mask.
Doors will open at 6:00 pm and all books will be available to pick up at the event.
If you have a ticket and are unable to attend the event, you will be able to pick up your book at Magers & Quinn during normal business hours. The last day for ticket holders to pick up Midnight in Washington by Adam Schiff is Monday, February 14, 2022. We will make an effort to have signed books available for pick up but can not guarantee a signed copy.
Praise for Midnight in Washington:
"Midnight in Washington is a compelling account from a man who refused to allow our venerable institutions to crumble at the hands of authoritarianism. Equally vital, he refused to allow his Republican colleagues to look the other way. Rep. Schiff does not merely provide riveting details from inside the halls of power; he delivers a much-needed warning about the threats facing America from within and an urgent how-to guide for preserving our nation."—Stacey Abrams, Founder of Fair Fight Action
"Engaging and informative . . . a manual for how to probe and question power, how to hold leaders accountable in a time of diminishing responsibility."—The Washington Post
"If there is still an American democracy fifty years from now, historians will be very grateful for this highly personal and deeply informed guide to one of its greatest crises. We should be grateful that we can read it now."—Timothy Snyder, #1 New York Times bestselling author of On Tyranny
Midnight in Washington, is a stunning look at what the Trump years have done to us as human beings. And Congressman Schiff's argument about where we go from here is that it is only human agency–the willingness of individual people to be brave and speak truth to power, and bear the consequences of it–that is the only thing that will get us out of what remains an existential danger to us as a democracy. This was a fascinating read, and an exception to the politicians don't write good books rule."—Rachel Maddow
About Midnight in Washington:
The vital inside account of American democracy in its darkest hour, from the rise of autocracy unleashed by Trump to the January 6 insurrection, and a warning that those forces remain as potent as ever–from the congressman who led the first impeachment of Donald J. Trump.
In the years leading up to the election of Donald Trump, Congressman Adam Schiff had already been sounding the alarm over the resurgence of autocracy around the world, and the threat this posed to the United States. But as he led the probe into Donald Trump's Russia and Ukraine-related abuses of presidential power, Schiff came to the terrible conclusion that the principal threat to American democracy now came from within.
In Midnight in Washington, Schiff argues that the Trump presidency has so weakened our institutions and compromised the Republican Party that the peril will last for years, requiring unprecedented vigilance against the growing and dangerous appeal of authoritarianism. The congressman chronicles step by step just how our democracy was put at such risk, and traces his own path to meeting the crisis–from serious prosecutor, to congressman with an expertise in national security and a reputation for bipartisanship, to liberal lightning rod, scourge of the right, and archenemy of a president. Schiff takes us inside his team of impeachment managers and their desperate defense of the constitution amid the rise of a distinctly American brand of autocracy.
Deepening our understanding of prominent public moments, Schiff reveals the private struggles, the internal conflicts, and the triumphs of courage that came with defending the republic against a lawless president–but also the slow surrender of people that he had worked with and admired to the dangerous immorality of a president engaged in an historic betrayal of his office. Schiff's fight for democracy is one of the great dramas of our time, told by the man who became the president's principal antagonist. It is a story that began with Trump but does not end with him, taking us through the disastrous culmination of the presidency and Schiff's account of January 6, 2021, and how the anti-democratic forces Trump unleashed continue to define his party, making the future of democracy in America more uncertain than ever.
Adam Schiff is the United States Representative for California's 28th Congressional District. In his role as Chairman of the House Permanent Select Committee on Intelligence, Schiff led the first impeachment of Donald J. Trump. Before he served in Congress, he worked as an Assistant U.S. Attorney in Los Angeles and as a California State Senator. He and his wife, Eve, have two children, Alexa and Elijah.
Keith Ellison has served as attorney general since Minnesotans first elected him in 2018. He is the first African American and the first Muslim American to be elected to statewide office in Minnesota.
As attorney general, his mission has been to help Minnesotans afford their lives and live with dignity, safety, and respect. He's fought to lower pharmaceutical drug prices, protect seniors from scam and abuse, protect student borrowers, hold opioid companies accountable, lead on criminal-justice reform and accountability, and much more.
Before becoming attorney general, Keith represented Minnesotans in the U.S. House of Representatives for 12 years, where he championed consumer, worker, environmental, and civil-rights protections for all. Before entering Congress, Keith served in the MN House of Representatives for four years and practiced law as a criminal-defense and civil-rights attorney for 16 years.
Keith earned his law degree from the University of Minnesota in 1990. He is the proud father of four adult children: Isaiah, Jeremiah, Elijah, and Amirah.