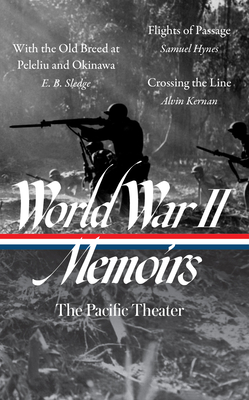 World War II Memoirs: The Pacific Theater (Loa #351): With the Old Breed at Peleliu and Okinawa / Flights of Passage / Crossing the Line
Hardcover
Military BiographiesAir CombatWorld War II
Publisher Price: $40.00
ISBN10:
1598537040
ISBN13:
9781598537048
Publisher:
Lib Of Amer
Published:
Jan 4 2022
Pages:
794
Weight:
1.25
Height:
1.60
Width:
5.00
Depth:
8.10
Language:
English
In one volume, three unforgettable memoirs that capture the brutality, fear, and heroism of the American land, air, and sea war in the Pacific.
Every generation is a secret society, former Marine pilot Samuel Hynes wrote. The secret that my generation--the one that came of age during the Second World War--shared was simply the war itself. This volume brings together the powerful memoirs of three Americans who came of age fighting in the Pacific and who survived to tell their stories. Remarkable literary achievements that capture history with the immediacy of lived experience, all three--presented here in an illustrated collector's edition--are classics of the modern literature of war.

In With the Old Breed at Peleliu and Okinawa (1981) Marine veteran E. B. Sledge bears unflinching witness to the horror, fear, and degradation of prolonged close-quarters combat. A mortarman serving in a front-line rifle company, Sledge survived thirty days of nightmarish fighting on the remote coral island of Peleliu, where heat, thirst, filth, and fear and hatred of the Japanese eroded the veneer of civilization and made savages of us all. On Okinawa he faced an even greater test of endurance amid deep mud, driving rain, and incessant shelling, as men fought and bled in an environment so degrading I believed we had been flung into hell's own cesspool. Written with precision and clarity, Sledge's memoir is a haunting testament to his struggle to hold on to decency and sanity, and a moving tribute to the esprit de corps of the U.S. Marines.

Flights of Passage (1988) is Samuel Hynes' evocative and elegiac memoir of his fairly ordinary flying war. A true believer in the religion of flight, he writes with lyricism, candor, and humor about the joys and dangers of his stateside training as a dive-bomber pilot, the beauty and excitement he experienced flying in combat over the Ryukyu Islands, and his wartime education in the realities of friendship, sex, love, and sudden, random death.

Alvin Kernan enlisted in the Navy in 1941 at age seventeen to escape life on a failing Wyoming ranch. Crossing the Line (1994, revised 2007) is a vividly written account of his remarkable service on three aircraft carriers, first as an aviation ordnanceman and then as an air gunner. A perceptive and thoughtful observer of the sailor's life at sea and on shore, Kernan witnessed the aftermath of the Pearl Harbor attack and the launching of the Doolittle Raid, armed planes at Midway, survived the sinking of the Hornet, and flew on the final mission of the fighter ace Butch O'Hare.

With thirty-two pages of photographs and endpaper maps.