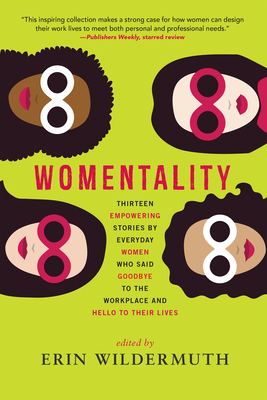 Womentality: Thirteen Empowering Stories by Everyday Women Who Said Goodbye to the Workplace and Hello to Their Lives
Paperback
Publisher Price: $17.00
ISBN10:
1941110843
ISBN13:
9781941110843
Publisher:
Three Rooms Pr
Published:
Oct 8 2019
Pages:
212
Weight:
0.65
Height:
0.70
Width:
5.50
Depth:
8.20
Language:
English
This inspiring collection makes a strong case for how women can design their work lives to meet both personal and professional needs. --Publishers Weekly, starred review
Womentality: Thirteen Empowering Stories by Everyday Women Who Said Goodbye to the Workplace and Hello to Their Lives is a collection of powerful, personal essays from enterprising women around the world who came to the same realization: work shouldn't have to be painful and demeaning. Armed with an internet connection and plenty of creativity and ingenuity, they prove that it is possible to redefine the nine-to-five work paradigm and create a flourishing career that is flexible and fulfilling outside the corporate structure.
The thirteen women--from diverse countries such as Uganda, Venezuela, Poland, Palestine, and the Philippines--approach independent work in different ways, but are all motivated by the same impulses--to escape the drudgery of office life, to have control of their time, and to enjoy the freedom of working for themselves. Importantly, many discover that--outside of the office--it is possible to triumph over global pay disparities that favor men.
Womentality is not a book about people who do not work--on the contrary, these women work hard and their stories illustrate how they overcame challenges to achieve their goals--whether they sought freedom to travel, to spend more time with the family, escape demeaning office politics, or simply to control their career.
The essays in Womentality prove that a life of independence is not reserved for elite, American workers. It is possible for anyone. As the women who contributed to Womentality can attest: escaping the nine-to-five life isn't easy--it takes guts and persistence--but it's absolutely worthwhile.