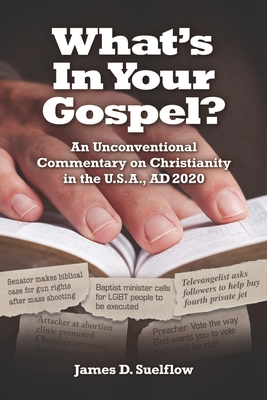 What's In your Gospel?: An Unconventional Commentary on Christianity in the U.S.A., AD 2020
Paperback
ISBN13:
9798656258302
Published:
Jul 5 2020
Pages:
64
Weight:
0.23
Height:
0.15
Width:
6.00
Depth:
9.00
Language:
English
COMPOSED IN BIBLE-LIKE FORM, this collection of essays is distilled from present-day events, headlines, and media to reflect some of modern America's loudest Christian voices and most prominent evangelical influencers.
By framing examples of contemporary behavior and practices in a style and context familiar to the faithful, important questions emerge:
Are Americans still practicing what Jesus preached?
Do they continue to follow Jesus' path of love, compassion, forgiveness, inclusiveness, sharing, and sacrifice?
Or has a more commercialized, politicized, and power-hungry dynamic infiltrated Christianity right here in our homeland?