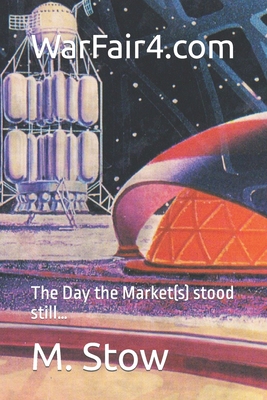 WarFair4.com: The Day the Market(s) stood still...
Paperback
Series: Warfair4.com, Book 1
ISBN13:
9798562679352
Publisher:
Independently Published
Published:
Nov 10 2020
Pages:
238
Weight:
0.78
Height:
0.54
Width:
6.00
Depth:
9.00
Language:
English
WarFair4: The Day the Market(s) stood still... Rogue-Citizen: Local Into The Abyss... Global-Citizen. M.Stow Contents 1.She. 2.They. 3.He. 4.The Banker and The Clerk. 5.The Accident & Emergency Department and Hospital Factory. 6.Home. 7.Titanic! 8.Avatar. 9.Cannon Fodder. 10.Rent. 11.Slaughter. 12.Brute Justice. 13.Global-Citizen Den(i)zenAlso by M.StowPart One: The Day the Markets stood still... Published at Smashwords. 1. She. 'It is like living in a rabbit hutch' She often said metaphorically, and He replied with a shrug, nothing to say in reply. It was; and it would take long enough to pay for. Four rooms. Eight-floors up, eight flights of long turning concrete rubbish chute and stairs, and fire escape, for when the elevators did not function anyway, which was often and took days sometimes to repair. A balcony open passageway at the front, looking over the street below, now starting to become busy with traffic. They had lived with his parents for a time, and then after they were married in a small rented flat in The City, before they needed to afford somewhere to live together, and to bring-up their two small children. Both worked and saved when they could and with some financial help from a relative (deceased) they had managed to get this place. When the housing market was 'buoyant', and mortgages easy to get. The Home was bought with a loan, a promissory note, deposited and co-lateraled together with the home itself. They were afloat.