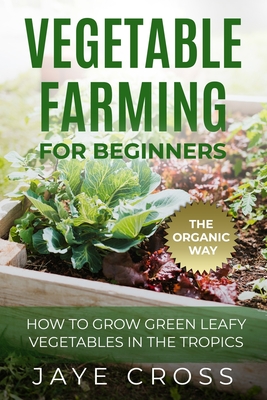 Vegetable Farming for Beginners: How to Grow Green Leafy Vegetables the Organic Way in the Tropics
Paperback
ISBN13:
9798655976764
Published:
Jun 22 2020
Pages:
68
Weight:
0.25
Height:
0.16
Width:
5.98
Depth:
9.02
Language:
English
Vegetable Gardening for Beginners: How to Grow Green Leafy Vegetables the Organic Way in the Tropics
Today only, get this Amazon bestseller for just $2.99. Regularly priced at $6.99. Read on your PC, Mac, smart phone, tablet or Kindle device.
Most people will tell you it's not difficult to plant green leafy vegetables. Just get some soil, put in the seeds, water it daily and leave it in the sun. Let nature take care of the rest. That's what everyone says.Well, not entirely true. There're so many other things involved.You need top quality soil, no doubt, but you'll also need to maintain the soil so that they are consistently power packed with nutrients.You need adequate sunlight, but in places that are too hot, your crops will end up sunburnt or roasted if you don't have the proper protection.You need water, but if the soil has poor drainage, it'll cause water log issues and cause the roots to rot. If you don't water enough, your plants can't grow well.There're multiple factors involved if you want to grow your own green leafy vegetables properly and each of these parameters are slightly different across various geographies. All these have to be carefully controlled and monitored if you wish to have a bountiful harvest at the end.In this one-stop book, you will be taught everything you need to know about growing green leafy vegetables the organic way in your own backyard or in small areas such as apartments. This is not an encyclopedia or a book about plant biology where it's being loaded with theories. I did away with those boring stuff to keep this book lean. Instead, you will pick up skills & tactics that you can apply immediately to planting. You'll learn...
How're you going to grow these green vegetables with minimal effort.
The right type of soil and what you need to keep the growing medium nutrient rich!
What types of green vegetables should you get started with.
What you need to now about organic farming - what's allowed and what's not.
and much more!
Download your copy today!
Take action today and download this book for a limited time discount of only $2.99!