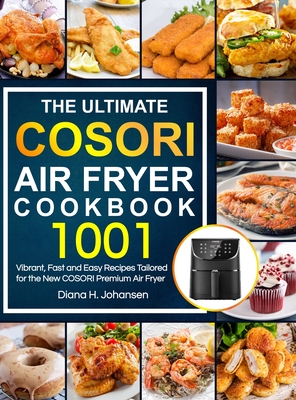 The Ultimate Cosori Air Fryer Cookbook: 1001 Vibrant, Fast and Easy Recipes Tailored For The New COSORI Premium Air Fryer
Hardcover
BakingCookbooks GeneralGrilling
ISBN10:
1637335547
ISBN13:
9781637335543
Publisher:
Lightning Source Inc
Published:
Mar 1 2021
Pages:
194
Weight:
1.64
Height:
0.50
Width:
8.50
Depth:
11.00
Language:
English
Enjoy 1001 Cosori Air Fryer Affordable, Quick & Easy Recipes In this 2021 edition, you'll find 2021's most affordable, quick &; easy Cosori Air Fryer recipes specifically tailored for the NEW COSORI PREMIUM AIR FRYER MACHINE on a budget. This cookbook includes...
* 1001 budget friendly recipes: cut expensive and hard to find ingredients.
* Affordable ingredients: save money cooking budget friendly recipes.
* Easy to find ingredients: cook ingredients from inside your home.
* Nutritional information: keep track of your daily calories.
* Servings: cook the right amount of food for your diet.
* Cooking times: save time in the kitchen.
* Highly rated recipes: enjoy only the highest quality hand selected recipes.
* Holiday special recipes: enjoy the best holiday meals with your family!
* Recipes for sauces, dippings and dressings: the best companion for fried foods.