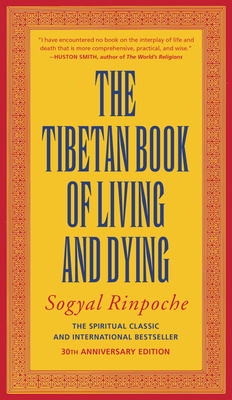 The Tibetan Book of Living and Dying: The Spiritual Classic & International Bestseller: 25th Anniversary Edition
Paperback
BuddhismDeath & DyingSelf-Help
Publisher Price: $20.99
ISBN10:
0062508342
ISBN13:
9780062508348
Publisher:
Harper One
Published:
Feb 25 2020
Pages:
464
Weight:
1.05
Height:
1.40
Width:
6.00
Depth:
8.90
Language:
English
A magnificent achievement. In its power to touch the heart, to awaken consciousness, [The Tibetan Book of Living and Dying] is an inestimable gift.
--San Francisco Chronicle
A newly revised and updated 25th Anniversary edition of the internationally bestselling spiritual classic, The Tibetan Book of Living and Dying, written by Sogyal Rinpoche, is the ultimate introduction to Tibetan Buddhist wisdom. An enlightening, inspiring, and comforting manual for life and death that the New York Times calls, The Tibetan equivalent of [Dante's] The Divine Comedy, this is the essential work that moved Huston Smith, author of The World's Religions, to proclaim, I have encountered no book on the interplay of life and death that is more comprehensive, practical, and wise.