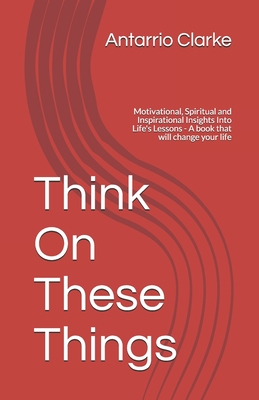 Think On These Things: Motivational, Spiritual and Inspirational Insights Into Life's Lessons - A book that will change your life
Paperback
ISBN13:
9798519762441
Publisher:
Independently Published
Published:
Jun 13 2021
Pages:
130
Weight:
0.35
Height:
0.28
Width:
5.51
Depth:
8.50
Language:
English
The most powerful lessons life teaches are the ones we ignore and fail to accept. They are the lessons which challenge us, bend us or break us. They are the lessons which bless us or build us, but only if we are willing to learn from them.
Life will teach you that you are not able to fix everything that goes wrong. It teaches you that there is a difference between a circle of friends and a circus of friends. This life teaches us that rumours and gossip will slay a man's soul because life and death are in the power of the tongue. These powerful lessons remind us that life is a blessing and not a curse and that we should be grateful and not greedy. I am convinced that every second of life is a gift of great value.
Also in
Metaphysical General