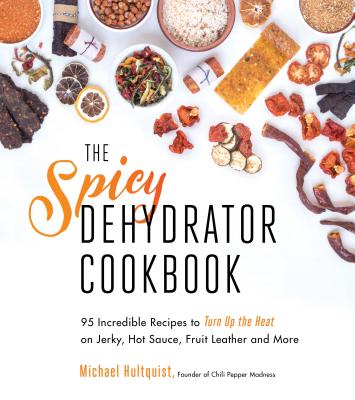 ISBN10:
1624145027
ISBN13:
9781624145025
Publisher:
Page Street Pub
Published:
Jan 9 2018
Pages:
192
Weight:
1.35
Height:
0.80
Width:
8.00
Depth:
8.90
Language:
English
Easy, Flavorful and Hot Recipes for Your Dehydrator
Take your dehydrator to new and spicy heights with Michael Hultquist's innovative recipes for everything from hot sauces and spice mixes to jerky and soups that you can rehydrate later. If you're in the mood for a mildly spicy jerky or want a hot sauce recipe that will take your breath away,
The Spicy Dehydrator Cookbook
has got you covered. These recipes will help you get better use out of your dehydrator and stock your pantry with staples that last longer and taste better too. Serious chiliheads will love the Ragin' Cajun Ghost Pepper Hot Sauce and Spicy Coffee-Maple Bacon Jerky. Easily-rehydrated meals like Butternut Squash Risotto and Coconut Chickpea Curry can make any meal gourmet in no time, and Chocolate-Strawberry Power Bars are perfect for a healthy energy boost on the go. With helpful tips, tricks and killer recipes,
The Spicy Dehydrator Cookbook
has everything you need to spice up your food preserving game.
Also in
Canning & Preserving