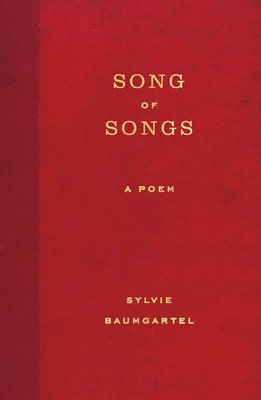 Song of Songs: A Poem
Paperback
Publisher Price: $19.00
ISBN10:
0374539073
ISBN13:
9780374539078
Publisher:
Farrar Strauss Giroux 3Pl
Published:
Sep 22 2020
Pages:
80
Weight:
0.10
Height:
0.30
Width:
4.90
Depth:
8.00
Language:
English
A debut poetry collection from a writer whose vivid verse explores the connections and relationships that make us human
Sometimes I like to feel sexy. Sometimes I don't. Sometimes I like to be very plain. Invisible almost, hiding in plain sight. I want to hide and to be found.
In the spirit of the biblical Song of Solomon, Sylvie Baumgartel's
Song of Songs
takes the subjects of love and worship, and brings them to the desperate, wild spaces of domestic life. With a voice at once precise and oneiric, Baumgartel explores the landscapes of sex and desire, power and submission, in this groundbreaking book-length poem that forces us to question the bounds of devotion. An ambitious and vivid debut,
Song of Songs
is a work of breathtaking honesty, couched in language few of us are brave enough to speak aloud.