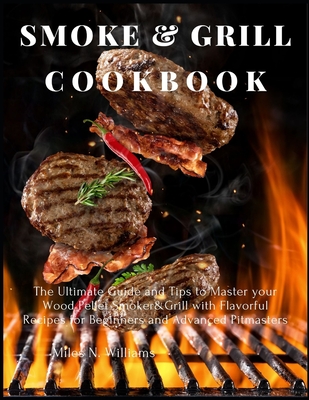 Smoke and Grill Cookbook: The Ultimate Guide and Tips to Master your Wood Pellet Smoker&Grill with Flavorful Recipes for Beginners and Advanced
Paperback
Currently unavailable to order
ISBN13:
9798519582469
Publisher:
Independently Published
Published:
Jun 12 2021
Pages:
70
Weight:
0.41
Height:
0.14
Width:
8.50
Depth:
11.02
Language:
English
Happy Fourth of July. Let's Celebrate Independence Day!How to Smoke and Grill everything, from beef, pork, poultry to fish and seafood.BECOME A MASTER OF GRILL IN A MATTER OF DAYS USING THE MOST DELICIOUS RECIPES...Are you the kind of person who just loves properly cooked meat?Have you never caught yourself cooking the same boring dish over and over again?Would you like to have a tool that would support you every time you begin looking for new smoking, grilling, roasting, or baking ideas?
If you answered Yes to at least one of these questions, then keep reading...
In this smoker cookbook you will discover:
A BRIEF HISTORY OF SMOKING
WHY A WOOD PELLET SMOKER-GRILL?
ULTIMATE TIPS FOR SMOKING&GRILLING
BEEF RECIPES
PORK RECIPES
POULTRY RECIPES
FISH&SEAFOOD RECIPES
and much, much more!Scroll up and click on Buy Now button