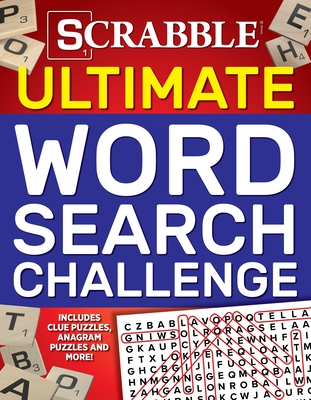 Scrabble Ultimate Word Search Challenge: Includes Clue Puzzles, Anagram Puzzles and More!
Paperback
Series: Ultimate Puzzle Books
Publisher Price: $14.99
ISBN10:
1948174235
ISBN13:
9781948174237
Publisher:
Media Lab Books
Published:
Aug 13 2019
Pages:
320
Weight:
1.15
Height:
0.80
Width:
6.90
Depth:
8.90
Language:
English
THE CLASSIC GAME IS NOW A FAVORITE PUZZLE BOOK!
- The perfect gift for any word-lover or Scrabble fan
- 140 traditional word searches, jumble searches (so hard!) and trivia-based searches
- 320 big, easy-to-read pages will keep your brain engaged for weeks
Love words? Love Scrabble? Then boost your brain with this collection of more than 140 word search puzzles. Every word list is made up of legal Scrabble words, so you'll be improving your game knowledge too! In addition to traditional word searches, the book also introduces two new type of word search puzzles designed with the Scrabble-lover in mind. The first is a trivia puzzle which provides clues to the words that are hidden in the grid. The second provides a single series of letters from which you'll need to unscramble and identify all of the words waiting to be found. The book also includes dozens of intriguing word facts and definitions scattered throughout, perfect fun for word lovers.