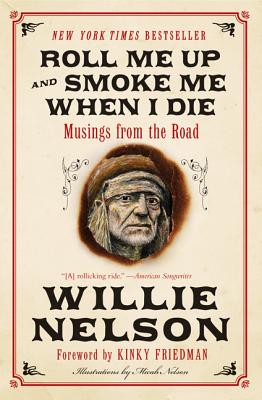 ISBN10:
0062293311
ISBN13:
9780062293312
Publisher:
William Morrow
Published:
Aug 27 2013
Pages:
192
Weight:
0.30
Height:
0.60
Width:
5.30
Depth:
7.80
Language:
English
You won't see no sad and teary eyes when I get my wings, and it's my time to fly
Just call my friends and tell them there's a party, come on by
So just roll me up and smoke me when I die
In Roll Me Up and Smoke Me When I Die, Willie Nelson muses about his greatest influences and celebrates the family, friends, and colleagues who have blesses his remarkable journey. Willie riffs on music, wives, Texas, politics, horses, religion, marijuana, children, the environment, poker, hogs, Nashville, karma, and more. He shares the outlaw wisdom he has acquired over eight decades, along with favorite jokes and insights. Rare family pictures, beautiful artwork created by his son Micah Nelson, and lyrics to classic songs punctuate these charming and poignant memories.