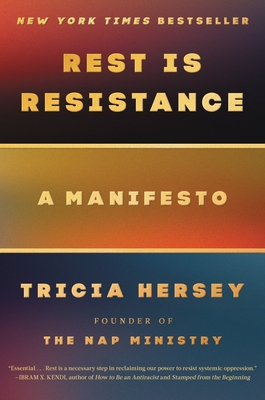 ISBN10:
0316365211
ISBN13:
9780316365215
Publisher:
Little Brown & Co
Published:
Oct 11 2022
Pages:
224
Weight:
0.74
Height:
1.00
Width:
5.70
Depth:
8.50
Language:
English
***INSTANT NEW YORK TIMES BESTSELLER***
Disrupt and push back against capitalism and white supremacy. In this book, Tricia Hersey, aka The Nap Bishop, encourages us to connect to the liberating power of rest, daydreaming, and naps as a foundation for healing and justice.
What would it be like to live in a well-rested world? Far too many of us have claimed productivity as the cornerstone of success. Brainwashed by capitalism, we subject our bodies and minds to work at an unrealistic, damaging, and machine-level pace -- feeding into the same engine that enslaved millions into brutal labor for its own relentless benefit.
1 different editions
Also available
Also in
Metaphysical General