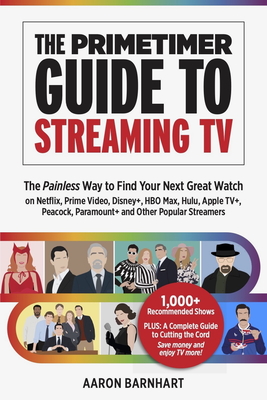 The Primetimer Guide to Streaming TV: The Painless Way to Find Your Next Great Watch on Netflix, Prime Video, Disney+, HBO Max, Hulu, Apple Tv+, Peaco
Paperback
Games & Activities GeneralTelevision
Publisher Price: $19.99
ISBN10:
1946248118
ISBN13:
9781946248114
Publisher:
Quindaro Pr
Published:
May 3 2022
Pages:
432
Weight:
1.20
Height:
1.10
Width:
6.00
Depth:
8.90
Language:
English
The Streaming TV guide that makes the most of readers' screen time.
Streaming TV has brought us endless viewing options but also endless scrolling. Let Primetimer, the web's leading resource for television news, reviews and commentary, help you find your next great watch.
Want something on Hulu or Prime Video but overwhelmed by choices?
Need a list of prestige dramas, quirky comedies or docs across all your streaming platforms?
Not ready to binge? Just want something for tonight?
Prefer suggestions from humans instead of algorithms?
This ingenious guide will help you discover just what you want without wasting your time.