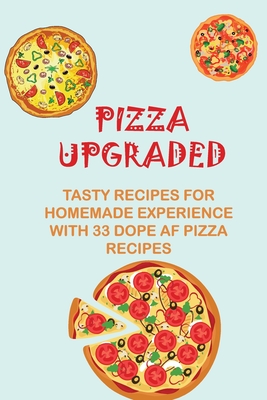 Pizza Upgraded: Tasty Recipes For Homemade Experience With 33 Dope AF Pizza Recipes: Italian Pizza Recipes
Paperback
Currently unavailable to order
ISBN13:
9798521095872
Publisher:
Independently Published
Published:
Jun 15 2021
Pages:
48
Weight:
0.18
Height:
0.11
Width:
5.98
Depth:
9.02
Language:
English
If you were to ask customers what their favorite part of a pizza is, what kind of responses do you think you'd get? Is it the cheese? The toppings? The sauce? What if i told you it's actually the crust!

When people think of healthy food, they often don't think of pizza. The truth is there are actually some health benefits to eating pizza. And there are plenty of topping and serving options to help it fit into your healthy lifestyle. You can even create a healthier meal by adding a salad on the side.

Do you want to make pizza at home. Read this book now.

There are plenty of healthy vegans, vegetarian and luscious gluten-free options to explore, even dessert pizzas. You're guaranteed to find a dope recipe or probably several to enjoy while reading through these delicious pizza options.

Sо do your taste buds a favor and еxрlоrе thе vаrietiеѕ оf the rесiре bооk. You will surely find ѕоmе new fаvоritеѕ that are tons of fun tо рrераrе, pizzazz and еаt, аѕ well аѕ, hеаlthу fоr уоu.

Buy this book now.

Also in
Cookbooks General