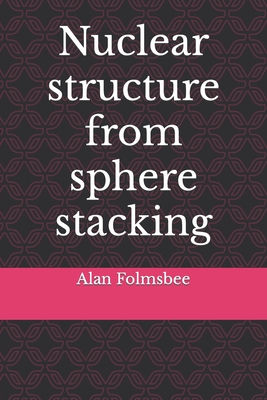 Nuclear structure from sphere stacking
Paperback
ISBN13:
9798520734215
Publisher:
Independently Published
Published:
Jun 14 2021
Pages:
114
Weight:
0.49
Height:
0.30
Width:
6.00
Depth:
9.00
Language:
English
This book on the structure of the atomic nucleus uses geometry instead of algebra to describe the shape of many elements. The proton and neutron are used as spheres that are stacked into fixed locations. Integer geometries using cubes and pyramids of stacked spheres produce shapes of nuclei based on iron. All 118 elements are shown in silhouette in a new periodic table of the elements. This is a static nucleus theory, as opposed to older ideas, like the liquid drop model of nuclear structure.

The author is a retired electrical engineer who discovered that this static nuclear theory provides a persuasive shape for iron. Two rings of protons are responsible for ferromagnetism of iron. Each ring has twelve protons. The two rings are coaxial. This confirms the ideas of Andre-Marie Ampere of the year 1820, who believed that iron bar magnets have tiny current loops in them. The book has 70 color images of models of the nuclei of many elements. Uranium is shown in complete detail, with the positions of every proton and every neutron revealed.

Experimental evidence by other scientists has shown a pear-shaped nucleus for barium, radon, and radium. This book shows the theoretical shapes of those elements to match the experimental silhouettes. The neon nuclear shape also has matched the static nucleus theory to the shape shown using Schrödinger's equation, provided by researchers in France and Croatia. The fission products from uranium have a bi-modal mass distribution explained by a cubic structure in the sphere stack that has 27 nucleons. That confirms that this theory provides answers to experimental questions.
Eighteen rules that control nuclear structure are provided. Protons form lines of protons. All elements heavier than boron have a simple cubic lattice of spherical baryons at their centers. The six faces of the cubes are armored by stacks of baryons. By following those rules, the charge distributions in every element are defined for the first time.
In 84 pages, this revolutionary theory explains why nickel is ferromagnetic, but adding one more proton makes copper non-ferrous. It explains why platinum is a catalyst due to its proton's locations forming a hook shape. Unstable elements like technetium and promethium are explained by showing how a four-layer cube at their centers is the cause. Carbon has a shape that causes graphite's planar shape and the chaining of elements in organic molecules. Chromium is anti-ferromagnetic because of the shape of the nucleus.

The explanations in Nuclear Structure from Sphere Stacking do not need advanced algebra. Geometry is the appropriate branch of mathematics to describe the shapes of the elements. Quarks are not needed to explain any kind of matter. The static nucleus theory of the pyramidal cube is a breakthrough in theoretical physics.