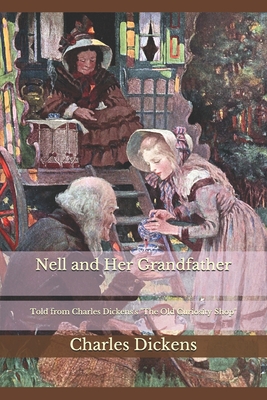 Nell and Her Grandfather: Told from Charles Dickens's "The Old Curiosity Shop"
Paperback
Currently unavailable to order
ISBN13:
9798686516755
Publisher:
Independently Published
Published:
Sep 16 2020
Pages:
80
Weight:
0.26
Height:
0.17
Width:
5.98
Depth:
9.02
Language:
English
One evening an Old Gentleman was taking a walk in the city of London, when some one spoke to him in a soft, sweet voice that fell pleasantly upon his ears. He turned hastily round, and found at his elbow a pretty little girl of some thirteen summers, who begged to be directed to a certain street which was in quite another part of London.It is a very long way from here, my child, said the Old Gentleman.I know that, sir, she replied timidly. I am afraid it is a very long way, for I came from there to-night.Alone? said the Old Gentleman.Oh yes; I don't mind that. But I am a little afraid now, for I have lost my road.And what made you ask it of me? Suppose I should tell you wrong?I am sure you will not do that, said the little maiden. You are such a very old gentleman, and walk so slow yourself. As the child spoke these words a tear came into her clear eye, and her slight figure trembled as she looked up into the Old Gentleman's face.Come, said he, I'll take you there.She put her hand in his as if she had known him from her cradle; and they trudged away together, the little creature rather seeming to lead and take care of the Old Gentleman than he to be protecting her.Who has sent you so far by yourself? said he.Somebody who is very kind to me, sir.And what have you been doing?That I must not tell, said the child.